Max Minghella And Eloise Mumford Up For Joe Johnston's Micro-Budget Thriller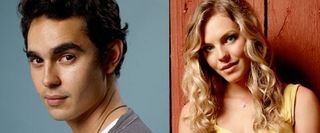 Action-adventure director Joe Johnston, who dazzled audiences last summer with Captain America: The First Avenger, is currently casting his next feature, a micro-budgeted thriller called Not Safe For Work, or NSFW. True to form, Johnston, who has helped launch such talent as Chris Evans and Jake Gyllenhaal (October Sky), is pursuing some relative unknowns for the film's lead roles. Variety reveals that Max Minghella, whose most noteworthy role to date was a minor part in The Social Network, and Eloise Mumford, a cast member of the new TV thriller The River, have entered into talks to play NSFW's drama-prone couple.
The script, penned by horror-thriller creators Adam Mason and Simon Boyes, centers on a young paralegal who comes face to face with a dangerous killer, who is on a covert mission to destroy some top-secret documents as well as anyone who gets in his way. Minghella is up for the role of the paralegal, while Mumford may play his girlfriend/co-worker.
It's an interesting move for Johnston to go from such an unrepentantly garish and crowd-pleasing blockbuster as Captain America: The First Avenger, to a single-location thriller that's boasting the paltry budget of $2.5 million. (To provide some perspective: Captain America is said to have cost around $140 million to make.) It sounds like Johnston is looking to take on a challenge, and I respect that. Office-set thrillers can be a tricky subgenre that falls into criminally dull moments involving much staring at computer screens and fast-paced typing with a furrowed brow, so I'll be curious to see what Johnston has up his sleeve to make NSFW stand-out.
As for the casting of Minghella, the London-born actor and son of heralded writer-director Anthony Minghella has been trying to forge his own path in film since his feature debut in 2005's forgettable drama Bee Season. Since then he's landed leading roles in indies like the dark comedy Art School Confidential and the little-known Elvis and Annabelle, but hasn't yet broken through as a recognizable leading man. Though NSFW has a meager budget, it is backed by Universal, which means it could get a highly promoted theatrical release and win Minghella the notice he's been working toward.
Unfortunately for Mumford, I doubt the success of NSFW would be as affecting. Typically girlfriend roles in thrillers leave ingénues little to do beyond look pretty and panicked in turn. Still, following on her soon-to-hit debut opposite Miley Cyrus in the sorority-set action-comedy So Undercover, and the mysterious thriller Drones, which is currently in production, it'd be another brick in the wall of her burgeoning film career.
Staff writer at CinemaBlend.
Your Daily Blend of Entertainment News
Thank you for signing up to CinemaBlend. You will receive a verification email shortly.
There was a problem. Please refresh the page and try again.