McG Plans To Make Terminator 5 And 6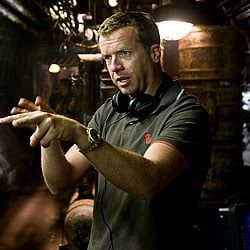 Does anyone really want to see another Terminator movie? Well, McG doesn't care whether you want one or not. In fact, he's pretty adamant about making two more movies. During a BD-Live Director's Commentary, director Joseph McGinty Nichol, better known as McG, said he's planning on directing Terminator 5 and 6.
In between announcing he's making T5 and then announcing T6 will follow, McG revealed the secret to successful filmmaking, according to Gizmodo (via Coming Soon): "There's two elements that go into filmmaking. There's sound, and there's the picture." Oh! Really? Other than that, it didn't seem like McG had anything important to say. The transcriber from Gizmodo complained the director was only given positive comments to respond to, which clearly doesn't represent the general consensus.
Is McG even aware of the fact that Halcyon Entertainment is in the midst of selling the franchise rights? It's impossible to have a fifth and sixth film set in stone, when by February 1st, those in charge will have to pass the reins to someone else.
Terminator Salvation isn't a complete travesty, but McG even admitted, "I'm disappointed in myself that I couldn't make the best movie." Being disappointed isn't an excuse to go ahead and give it another shot. A massive $200 million budget is a lot to go wasting on more 'sound' and 'picture.'
Your Daily Blend of Entertainment News
Staff Writer for CinemaBlend.