Mel Gibson's The Beaver Gets A PG-13, Even Though It May Never Be Released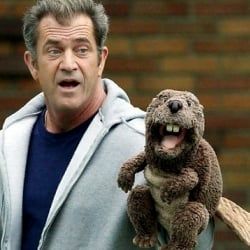 Mel Gibson himself is not safe for children under the age of 13, or pretty much anyone, these days-- you can let Radar Online explain if you're not aware of that mess. But while the Mel Gibson-starring The Beaver is currently stuck in release limbo because no one in their right mind wants anything to do with the actor, the movie has gotten some kind of good news: according to Rope of Silicon, the MPAA has granted The Beaver a PG-13 rating, "For mature thematic material, some disturbing content, sexuality and language including a drug reference."
The Beaver, directed by Jodie Foster, stars Gibson as a man who suffers a midlife crisis so extreme and bizarre that he starts communicating exclusively via a beaver puppet on his hand. The movie seemed to have been made as a kind of comeback vehicle for Gibson, who hasn't starred in a hit in the last decade and was just starting to move beyond, uh, that other awkward moment when he harassed someone and revealed himself as a racist. The Beaver is very likely to be a good movie-- Jodie Foster is certainly a talented director-- but the damn thing is going to be impossible to release in the planned window of this fall, and who knows when anyone will again be able to stomach Mel Gibson long enough to watch him for 90 minutes.
But hey, on the bright side, if The Beaver ever manages to get a release, it won't have to struggle against an R-rating. At least there is a bright side, right?
Your Daily Blend of Entertainment News
Staff Writer at CinemaBlend