Mel Gibson To Film At A Prison In Veracruz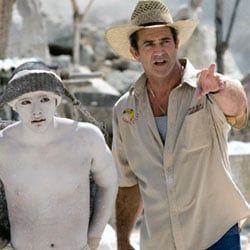 Do you go through the trouble of emptying a portion of a prison to make a movie? If it's a Mel Gibson movie you do! Over a year ago, word got out that Gibson was scouting locations for a new movie in Mexico's Gulf coast state of Veracruz. Now, THR got word that Gibson will indeed be returning to the site where he shot the 2006 movie Apocalypto, to film at the Ignacio Allende prison in January.
Veracruz Gov. Fidel Herrera says part of the prison will be vacated "because a grand production will be filmed there with our friend, the actor and producer Mel Gibson." It's funny to hear Herrera refer to Gibson as a friend, but Gibson rightfully earned that title. Earlier this year Gibson donated $1 million to help repair storm-damaged homes in the region. I bet it had something to do with his moviemaking ambitions, but still, it's a wonderful gesture.
What's not so wonderful is the lack of details on this new project. When news of the scouting hit back in 2008, Prospero Rebolledo said, "there is no script, right now they are looking precisely for places to do it." Nobody knows how far the project has come since then because Herrera provided zero details concerning the film. January is just one month away, so I expect we won't have to wait much longer for further news.
Your Daily Blend of Entertainment News
Staff Writer for CinemaBlend.