Meryl Streep Playing The Butler In Russell Brand's Arthur Remake?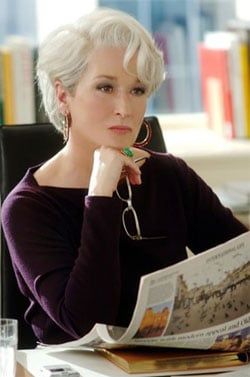 Russell Brand, a.k.a. everyone's favorite sex addicted rock star Aldous Snow from Forgetting Sarah Marshall and the upcoming Get Him To The Greek, has long been adamant about getting a remake of the 1981 Dudley Moore classic Arthur remade with himself in the lead. According to the Daily Star, Brand has made a big step towards getting the green light on his pet project.
The actress of all actresses Meryl Streep is reportedly in talks to play Hobson, the helpful butler. The difference here is that in the 1981 version, Hobson was played by a man, but a source claims Brand is hoping that this gender swap would make the "dynamics really interesting." Of course, you've got to consider the source here-- The Daily Star is one of those British tabloids with a penchant for making things up, particularly for English superstars like Brand. So there are about even odds that this entire story, like Megan Fox playing Catwoman, is total nonsense.
Let's pretend for a moment, though, that it's real. This could possibly be the most unlikely pairing Hollywood has seen since Jean Claude Van Damme and Dennis Rodman starred opposite each other, but with the caliber of the just these two actors lined up for Arthur, it would be hard not be confident about the project.
Arthur is about an immature 30-year-old set to inherit $750 million upon marrying a woman of his father's choice, but things get complicated when he falls in love with someone else.
Your Daily Blend of Entertainment News