Michael Sheen May Join Teen Thriller Mariah Mundi And The Midas Box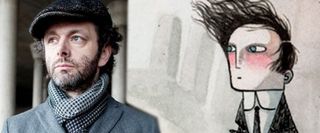 Across the pond the YA adaption craze continues with London's Entertainment Motion Pictures' plan to produce a teen thriller based on G.P. Taylor's Victorian-set fantasy-thriller Mariah Mundi and The Midas Box. Jonathan Newman, who wrote and directed the Mandy Moore/Martin Freeman rom-com Swinging with the Finkels will helm the adventure, which follows the journey of a teen boy who discovers a mysterious box in the basement of the opulent Prince Regent, where he's employed. Writing team Rob Sprackling and John Smith (Gnomeo & Juliet) and Gavin Scott (Small Soldiers) have been tasked with translating the first book in Taylor's optioned trilogy into a family-friendly romp, which Newman's described as a mix of Chitty Chitty Bang Bang, Willy Wonka and the Chocolate Factory, Sherlock Holmes and Harry Potter.
While that is a preposterous amount of hype to level on Mariah Mundi and The Midas Box, the project is at least off to a good start as Variety reveals the films' producers have entered into negotiations to cast Michael Sheen (Midnight in Paris), Sam Neill (The Hunter), Lena Headey (300) and Ioan Gruffud (Fantastic Four). Should they sign on, Sheen would play Captain Charity, a dashing adventurer in the vein of Indiana Jones, while Neill would depict a dastardly villain with Headey as his slinky sorceress colleague. There's no word on who might be cast to fill the role of the feature's title character, or whom Gruffud is in talks to play.
As an ardent admirer of Sheen's work in heralded biopics and cheesy genre flicks alike, I'm curious to see what he'd do with an Indiana Jones-inspired role. I immediately picture a tongue-in-cheek depiction in league with Amy Adams as Amelia Earhart in Night at the Museum: Battle of the Smithsonian, which was daffy but wonderfully entertaining. But I'm game to watch whatever he comes up with. Plus, I'm always on board to see Neill tap into his inner baddie, so the inclusion of Headey's strong supporting prowess is just gravy.
Casting confirmation should come soon as Mariah Mundi and The Midas Box is set to begin production at the end of April, shooting on location in Bristol and Bath, England, with the remaining set-ups to be lensed at Bottle Yard studios.
Your Daily Blend of Entertainment News
Staff writer at CinemaBlend.
Your Daily Blend of Entertainment News
Thank you for signing up to CinemaBlend. You will receive a verification email shortly.
There was a problem. Please refresh the page and try again.