Michelle Williams Is Marilyn Monroe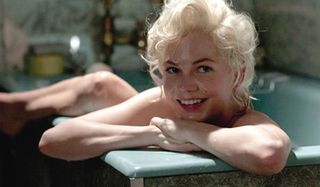 Michelle Williams could end up playing Marilyn Monroe. Production Weekly has confirmed that she's in talks to star as the iconic blonde, bombshell in the Simon Curtis film My Week with Marilyn, which starts shooting in June.
At first glance, Williams doesn't exactly look the part. That's particularly important with someone like Marilyn, who's appearance is so iconic and whom playing will usually mean spending time in a wide variety of revealing outfits. But Williams' is a great actress, one with an ability to completely transform herself.
I never thought Gretchen Mol would be able to pull of Bettie Page, she looks nothing like the famed pin-up, but if you've seen The Notorious Bettie Page you know that she pulls off not only her personality but the heavily photographed centerfold's physical appearance as well. Williams seems capable of pulling off a similar makeover for Marilyn.
At one point Scarlett Johansson was rumored to be up for the part. While she might be a closer match for Marilyn physically, Williams is the better actress. Have you seen Wendy and Lucy? Get to Netflixing.
The movie is based on the diary of someone named Colin Clark, an employee of Laurence Olivier who was put in charge of keeping an eye on Marilyn while in London during 1957.
Your Daily Blend of Entertainment News