Milla Jovovich Is A Slave To Sex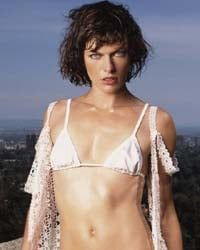 For some men it's a dream come true, but the subject's no fantasy. Milla Jovovich will be sold for sex in in the new movie 'Welcome to America', a drama/thriller about the very real sex slave trade.
It's real, but is it really as big and issue as the recent sensationalized attention it's getting would have us believe? The sex trade seems to be the fantasy crime du jour these days. Sure it happens, but this is another in a flood of recent made for tv and in production Hollywood films on the subject. Cool it guys… but not until after Milla plays a sex slave. The world needs that.
So The Hollywood Reporter says Jovovich will star alongside Kevin Kline in this one. Kline will play a Texas cop who finds out that he may have had a 13-year-old daughter who was sold as a sex slave years ago. He goes looking for her, and in the course of his investigation encounters a young Mexican boy whose sister has also been taken and forced into the slave trade. Together they go on a hunt to save his sister, and Milla plays a Russian sex slave who befriends the girl they're looking for. Jovovich's character believes she's coming to America to be a nanny, but instead ends up a sex slave in Mexico.
It's based on an article that appeared in January 2003 New York Times cover article called 'The Girls Next Door'. It's being directed by German Marco Kreuzpaintner and produced by disaster master Roland Emmerich's Centropolis Entertainment.
Your Daily Blend of Entertainment News
Thank you for signing up to CinemaBlend. You will receive a verification email shortly.
There was a problem. Please refresh the page and try again.