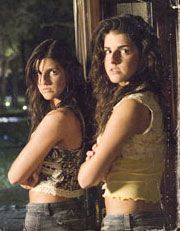 The Grindhouse fiasco is the saddest example of filmmakers who are too in love with their own work. Both Eli Roth and Robert Rodriguez continue to rant on and on about the possibilities of sequels. The most current ramblings come from Rodriguez's hot as hell nieces Electra and Elise Avellan, who played the babysitter twins in Grindhouse
"Robert [Rodriguez] said he'd do it [Machete] and asked for us to be in it," the two told Bloody-Disgusting.com in unison. "Robert wants to do Grindhouse 2 with [the two films being] Machete and The Babysitter Twins."
"Robert mentioned something about the end of the world and Hollywood action films, where we'd be trained in Mexico to come back here and fight," Electra states.
"Hollywood starts fucking with us so we start killing… we [would] kill Harvey Weinstein in the movie, although that's just talk now right," she clarifies," Elise continues, as if they shared one mind.
Let's see killing Harvey Weinstein, one of Rodriguez huge supporters, and a Babysitter Twins movie? Nice try hotties. This sounds like a bunch of bunk. Although I wouldn't be oppose to seeing these two in a Babysitter Twins spin-off, it sounds unlikely that Rodriguez would slip into that self-referential, "I hate Hollywood" theme. After all, isn't Rodriguez's middle name "Hollywood"?
Your Daily Blend of Entertainment News
Thank you for signing up to CinemaBlend. You will receive a verification email shortly.
There was a problem. Please refresh the page and try again.