Morgan Freeman Cast Opposite Tom Cruise In Joseph Kosinski's Oblivion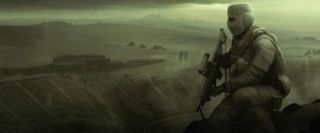 Joseph Kosinski's followup to Tron Legacy has gone through many changes since its inception. When first announced the project was going by the handle Oblivion, before changing to Horizons and now seemingly back to Oblivion. Actresses have also come and gone, including having to recast the luminous Jessica Chastain, and there has been a constant rotation of different writers. In fact, the only things that remain unchanged are Kosinski as the film's director and Tom Cruise as his leading man.
Now, Morgan Freeman has joined the project and hopefully having another key name to the film will provide some more stability in post-apocalyptic project. Deadline reports that voice-over guru Freeman has joined Kosinski's science fiction film in what was originally being described as a "critical part." A reporter at Variety followed the story with news that he's playing a character named Malcolm Beech, a resistance leader on Earth.
The film follows Cruise as the last man on this uninhabitable Earth (or apparently not, in either case), who works below the new colony in the clouds repairing ships that combat a hostile alien species. So basically, Tom Cruise is playing Wall-E, only with a weapons repair function instead of a garbage cubing function. Rounding out the cast are Olga Kurylenko as Cruise's lover in the clouds and Andrea Riseborough, who plays the woman our hero encounters on Earth who forces him to confront and reevaluate his current beliefs. Joseph Kosinski is directing the film from a script rewritten by Oscar-winner Michael Arndt that had earlier drafts by Karl Gajdusek and, another Oscar-winner William Monahan (all of which are based on the unreleased graphic novel by Kosinski and Arvid Nelson).
There's quite a bit of prestige behind the picture but something about the constant shake-ups and rewrites is certainly unsettling. I'm still looking forward to see what the incredible visual stylist in Kosinski has in store for his post-apocalytic wasteland but I hope this time the story is equally engaging. We'll find out when Oblivion is released July 19, 2013.
Your Daily Blend of Entertainment News
Thank you for signing up to CinemaBlend. You will receive a verification email shortly.
There was a problem. Please refresh the page and try again.