Morgan Freeman Will Give Sage Advice To Johnny Depp's Supercomputer In Transcendence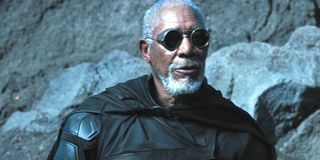 Morgan Freeman, who lends his unmistakable voice and gravitas to next weekend's Oblivion, is ready to head back for science fiction, and for a reunion with the Batman trilogy cinematographer Wally Pfister. Variety reports he's the latest actor to go into negotiations to join Transcendence, the sci-fi film starring Johnny Depp that will mark Pfister's directorial debut.
The cast is already stacked with star power, from Depp in the lead role-- as man working to fuse his consciousness with a sueprcomputer-- to Paul Bettany as a mysterious scientist to Rebecca Hall and Kate Mara as the female leads. Variety isn't describing what Freeman's role will be, since most of the plot details are being kept under wraps, but I think "wise man who guides the main character with bits of humor tossed in" is a fair guess.
Despite the fact that he could do voiceover for credit card commercials for the rest of his days and never have to leave his giant house, Freeman is staying busy with acting roles these days. He just finished playing the Speaker of the House (and eventually acting President) in Olympus Has Fallen, he'll show up among the many flashy magicians in this summer's Now You See Me, and will join a bunch of other veteran actors in Last Vegas, which arrives over Christmas. After all that much work, guiding Johnny Depp into becoming a supercomputer ought to be a piece of cake.
Staff Writer at CinemaBlend
Your Daily Blend of Entertainment News
Thank you for signing up to CinemaBlend. You will receive a verification email shortly.
There was a problem. Please refresh the page and try again.