NYFF Review: The Coens' Inside Llewyn Davis Is A Vivid, Melancholy Odyssey Through The Past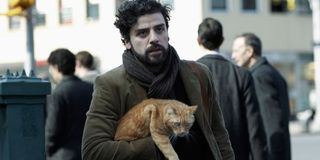 "Everything you touch turns to shit," sneers Llewyn Davis's bitter former lover played by Carey Mulligan, "like King Midas's idiot brother." While it seems a cruel thing to say, she's not wrong. Davis, a folk musician desperately trying to break through with his covers of tender and tragic tunes, is like a bad luck charm, not just to those around him, but to himself as well. Every choice he makes seems destined to hurt someone. And though the anti-hero at the center of Ethan and Joel Coen's latest drama is decidedly unlikeable—being bullheaded, selfish, arrogant and sometimes flat-out mean—he isn't unlovable. His determination to soldier on through homelessness, loneliness, repeated rejection and the abandonment of his performing partner all to make the music that drives him is compelling, and it pulls us and him through Inside Llewyn Davis.
Taking place over a week in 1961, Inside Llewyn Davis plays as a slice of life of its title character as he bumps along from gigs at hole in the wall venues in New York City, to crashing on couches of anyone who'll have him, and stumbling into a brief road trip to Chicago. As Davis is in every scene of the film, rising actor Oscar Isaac has the intimidating task of shouldering the majority of the movie. And he does so beautifully. There's no attempt to win us over with a winsome smile or good intentions, as Davis is not a charming man. He is coarse and angry as he recklessly careens into the lives of his friends and family. But Isaac's performance throbs with a brooding pain of a talented, tortured artist that wins us over just as it does everyone else in Davis's life.
At the Q&A held immediately after the screening, Ethan Coen described the film as an Odyssey without a destination. Indeed, Davis is a wanderer. But in his travels he comes across a fascinating cast of characters. Of course you should expect nothing less of a Coen Bros movie. There's Mulligan's furious Jean, who is tirelessly and comically enraged with Davis. Stark Sands, Adam Driver and Justin Timberlake play three other folk singers, all who struggle but none on the level of Davis. There are crass club owners, clueless agents, and an upper class academic couple (Ethan Phillips and Robin Bartlett) who treat Davis as some sort of beloved stray. Then, there's John Goodman as a folk music-mocking gasbag who shares his road trip with Davis and a steely and sexy loner called Johnny Five, played by Garrett Hedlund. Last but not least, is a lost orange cat that Davis feels obligated to keep safe as he bumbles along.
These colorful characters speak in that patter that the Coens have mastered which plays out like a distillation of American speech. It's slightly ridiculous, yet totally recognizable, and lends graceful moments of levity and humanity to this story of an artist who seems destined to fail. Painting their film in muted colors, the Coens create a sense of the past while also draping us in Davis's sullen perspective. But the narrative never gets too grim, in part because of the wonderful music that is threaded diagetically throughout. Simple folk songs that soothe the soul stream out in scene after scene, smoothing away the pangs of pain in Davis's journey. The Coens worked with T-Bone Burnett to create Inside Llewyn Davis's addictive soundtrack, and I suspect it will do for this brand of folk what O Brother Where Art Thou did for bluegrass. After hearing these numbers, it's impossible to not want to hear them again and again, to wrap yourself in their lovely melodies and the bittersweet stories they tell.
Inside Llewyn Davis is a vivid portrait of the period right before folk went from musicians finding new grace in old standards to the emergence of the singer-songwriter. Davis's window of breaking through is closing fast, but as aimless as he is, he can't stop to see it. This music defines him. It means more to him than the comfort of a home, than the love of his family, the respect of his friends, or even the possibility of success.. Hopefully, its lack of histrionics won't hurt it come award season, as this mellow tale doesn't need showy drama to deliver.
Inside Llewyn Davis will open at the New York Film Festival on September 28th. A theatrical release will follow in December.
For our complete New York Film Festival coverage, click here.
Your Daily Blend of Entertainment News
Staff writer at CinemaBlend.