Nathan Fillion Explains Why He Hasn't Been A Marvel Superhero Yet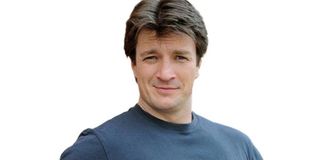 Nathan Fillion is a god to geeks, in large part because of his collaborations with Joss Whedon and James Gunn on Firefly and Slither respectively. So, with both directors now working in the cushy arena of Marvel Entertainment, why hasn't Fillion been asked into the fold of Marvel heroes? It's a question browncoats have been gnashing their teeth over since Whedon's The Avengers was announced. But we now have an answer from the Captain himself.
Sitting down with IGN to discuss his role in the upcoming Monsters University, Fillion addressed the possibility of playing a Marvel character. Understandably, his obligation to his long-running television series Castle eats up most of his time. He's enjoying the work, and he's slated for few more years contractually. So, he doesn't think he'll be joining the Avengers or the Guardians of the Galaxy anytime soon. Let's pause for a moment of silence for the heartbreak of millions at this sad news…Have you collected yourself? Then, let us press on.
Next, Fillion reveals he has never pressed Whedon or Gunn for a part in their superhero epics, saying:
He trails off there, and with a nod of his head spurs the hopes of many that he will play a Marvel superhero someday. But to the rumors about him playing Ant-Man, he insists there is nothing to them, offering, "People want to believe that, but actually, I never have!" For now, we'll just have to revel in his singing superhero turns as Captain Hammer in Dr. Horrible's Sing-Along Blog and Brown Widow on Venture Brothers.
Thankfully, the super short shooting schedule of Whedon's Much Ado About Nothing did allow Fillion to fit that into his busy schedule. So you can see him in action as an ass of a cop in select theaters.
Your Daily Blend of Entertainment News
Staff writer at CinemaBlend.