Next Generation Cast In New Star Trek Movie? - Updated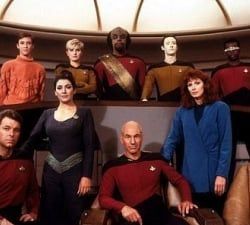 Our understanding thus far of the currently running Star Trek comic book series is that they would serve as a prequel to the upcoming film, but viewers just opting for the movie version would have no trouble catching up. Now Latino Review is reporting from WonderCon that the comic may bleed over into the movie more than we expected-- and the Star Trek: Next Generation cast may be involved.
At a panel for IDW Comics, one of the writers (unnamed in the Latino Review piece) revealed that ""The end of issue 4 is a cliffhanger and is going to continue in the first few minutes of the movie." Then another panelist mentioned that members of the Next Generation cast would be in the movie, and immediately got a reproachful glance from a fellow panelist who knew he had gone too far.
Those of you who have been reading the comic book series, chime in and tell us what to make of all this. Is the series good enough for us to be excited about it being part of the movie? And seriously, what on earth is the Next Generation going to do when thrown in with this bunch?
UPDATE! TrekMovie was at the same panel attended by Latino Review, and they say LR's report of the event is completely inaccurate. TrekMovie says, "TrekMovie attended the same panel at Wondercon and certainly did not take away that Latino Review analysis. We have previously received no indication that there are any cameos of any Next Generation era actors or characters. Just to be sure, we double checked with reliable sources and can confirm that there are definitely no TNG cameos in the new Star Trek."
Your Daily Blend of Entertainment News
Staff Writer at CinemaBlend