Nic Cage's Osama Bin Laden Comedy Just Added A Great Cast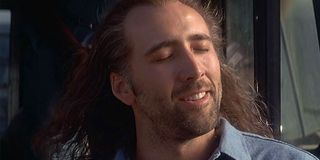 The upcoming biographical comedy, Army of One, doesn't just echo a military recruitment motto, it plans to send Nicolas freaking Cage to a war-torn Middle East. Now, it looks like an impressive cast of comedic talent will join the man of maniacal mirth as he heads on an off-the-wall adventure to find the Osama Bin Laden.
Deadline recently reported that Nicolas Cage's Bin Laden bonanza, Army of One, received an impressive influx of cast members, headed by names like Russell Brand and Rainn Wilson. Notable talents like Denis O'Hare, Ken Marino, and Paul Scheer are also set to join the war romp. It's shaping up to be a great cast, especially with the previously announced addition of Wendi McLendon-Covey from Bridesmaids and TV's The Goldbergs. At the moment, no details have been revealed about any of their characters.
Yes, as far as movies about Bin Laden, the world's most notorious terrorist, are concerned, it seems that some folks found Katheryn Bigelow's Zero Dark Thirty to be lacking zany slapstick flair. Well, thanks to Army of One, that gap will finally be filled. The film will see Nicolas Cage portray a real life construction worker from Colorado named Gary Faulkner, who, out of some ridiculous whim, armed with no skills whatsoever, tried to cross Pakistani and Afghan borders on a solo mission to capture the elusive asshat on his own. On that note, let's take a look at the new cast members who will be supporting old Nic.
Russell Brand, the shock comedian and once-celebrated headliner, whose star power sank hard "between the Moon and New York City" with his excoriated 2011 remake of Arthur, will bring his bizarre observational witticisms to the picture. While he's always been a divisive and controversial figure, his casting could imply a more light-hearted tone for this film's black ops bananas.
Rainn Wilson, who currently stars in the Fox crime procedural Backstrom, and will be seen in the upcoming sci-fi drama Uncanny, will add a reliably hilarious presence. Of course, he will bring his fanbase from his long run on The Office, which his 2008 starring effort, The Rocker, couldn't quite accomplish. He's always great as a novel nutcase or an eccentric straight man.
Looking at the other additions (pictured above in order from left to right), Denis O'Hare should bring his signature vibe of "creepy meets badass" that he's displayed in Dallas Buyers Club and on TV in shows like True Blood, American Horror Story, and The Good Wife. Ken Marino is a long-established sketch comedy veteran who has been seen on TV's Marry Me. However, for a generation who came of age in the 1990's, he's best remembered from The State as Louie, the guys who perpetually wants to "dip his balls in it." Finally, the addition of Paul Scheer should please fans of TV's The League, as the comedian will bring along his unmistakable brand of sarcastic wit.
Given the odd direction that Nicolas Cage's career has taken in recent years, Army of One already distinguishes itself by providing a role where people are meant to laugh at his antics…on purpose. However, with Seinfeld legend Larry Charles in the director's chair, and now the unveiling of a super-talented supporting cast, it's becoming increasingly clear that this movie will be more satirically sophisticated than just having Cage scream and do crazy stuff for 90 minutes. (Although that film might appeal to a certain audience.)
It will be fascinating to see where this ridiculous real-life premise takes the creative process. The absurdity imbued in the idea of some ordinary schmoe setting out to find Bin Laden is full of potential hilarity in its own right. However, the degrees to which the film further applies its comedic qualities could render it a trainwreck either unintentionally or on purpose. Let's hope for the latter when the film finally hits. There's no release date set for Army of One as of yet.
Your Daily Blend of Entertainment News
Thank you for signing up to CinemaBlend. You will receive a verification email shortly.
There was a problem. Please refresh the page and try again.