Nicolas Cage As Green Hornet Villain? Cameron Diaz As Love Interest?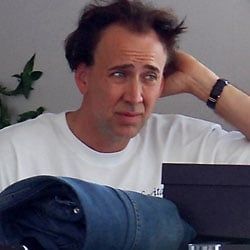 Seth Rogen's Green Hornet movie has had trouble holding on to any cast beyond Rogen himself in the title role, especially after Stephen Chow dropped out of the sidekick Kato role. But now casting is picking up steam again, and is heading in some pretty strange directions-- Nicolas Cage is in talks to play the "gangster villain" in the film, and Cameron Diaz is negotiating a role as a reporter and love interest.
Variety says that the film is still set for a fall start date, even though the Kato role has yet to be filled. But let's deal with these two pieces of casting news first. Cameron Diaz, eh, fine-- a decent if utterly uninspired choice for a female lead, even though it's a little weird that she's a solid 10 years older than 27-year-old Rogen. But Nicolas Cage? Wasn't it weird enough when he agreed to play the magic man in Disney's The Sorcerer's Apprentice? Aren't we all kind of sick of seeing him play bug-eyed wild man villain, just a variation on his immortal Face-Off villain?
Of course, this Green Hornet project is so out-of-bounds, so beyond what we usually expect of a superhero movie, that it's hard to predict how any of this will influence the film. After all, Michel Gondry was the genius who thought to cast Kate Winslet as the energetic fireball and Jim Carrey as the sad sack in Eternal Sunshine, and we all know how that turned out. But when it comes to people who would make a good love interest and villain opposite a superhero played by Seth Rogen, Diaz and Cage feel like wrong, overly traditional choices.
Staff Writer at CinemaBlend
Your Daily Blend of Entertainment News
Thank you for signing up to CinemaBlend. You will receive a verification email shortly.
There was a problem. Please refresh the page and try again.