Night At The Museum 3: Battle Of The Liberace Museum?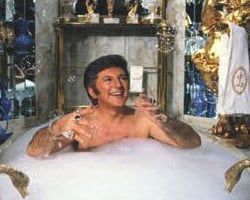 Night at the Museum 2 was a blast, due in large part, to the tightness of Amy Adams' pants. The film was a success so it should come as no surprise to anyone that they're working on a third one. Access Hollywood caught up with Museum co-writer Thomas Lennon and he hinted around that they've already started work on writing a third film.
Presumably they'll just wander in to a new museum, but how do you top the Smithsonian? Lennon has an idea. He says, "Here's a little bit, [a] real quick spoiler alert – Night at the Museum 3 is set in the Liberace Museum." He's joking right? I mean he has to be joking, doesn't he? We can only hope.
While you try to wrap your head around that revelation, counteract the Liberace effect with one last look at Amy Adams' magic pants:
Nice pants.
Your Daily Blend of Entertainment News