Ninja Turtles Reboot Director Compares The Effects To Rise Of The Planet Of The Apes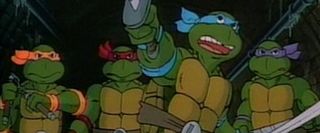 Just a couple of weeks ago, it became official; the Teenaged Mutant Ninja Turtles are coming back to the big screen for Christmas 2013 under the direction of Jonathan Liebesman. With Liebesman's latest, Wrath of the Titans, hitting theaters on March 30th, his venture with the turtles was a hot topic at the Wrath junket here in New York City yesterday, and Liebesman was kind enough to indulge my ninja turtle curiosity during our interview.
With many going the ninja turtle/alien route, I opted to take a different approach and ask him about the tone of the film.
The turtles' backstory is one thing, but what about the turtles themselves? While the Ninja Turtle movies of the 90s were live-action as well, Liebesman's movie might give the gang a more hi-tech look. When asked if he has an idea of what the turtle costumes will look like, Liebesman simply responded, "I don't know." However, when throwing out the idea of the turtles being non-human creatures, but with an authentic look, somewhat along the lines of a Harry Potter character, Liebesman corrected me by explaining, "I think for turtles you'd look at Rise of the Planet of the Apes, you know, that kind of stuff." So, does that mean the new turtles will come to life via motion capture? Liebesman said, "Maybe."
As a big Ninja Turtle fan himself, of course Liebesman's got his favorite – Raphael. "Because he's cynical. He thinks that everything is bullshit." Liebesman laughs and adds, "All right, that's horrible. He's a good dude … I just think he keeps it real. Leonardo's very serious, Michelangelo's very goofy, Donatello's a geek. Raphael, very serious young turtle."
Keep an eye out for our full interview with Liebesman on Wrath of the Titans next week.
Your Daily Blend of Entertainment News
Staff Writer for CinemaBlend.
Your Daily Blend of Entertainment News
Thank you for signing up to CinemaBlend. You will receive a verification email shortly.
There was a problem. Please refresh the page and try again.