Norwegian Horror Film Trollhunter Getting An American Remake From Chris Columbus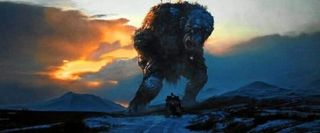 In terms of mythical movie monsters, trolls haven't yet gotten their due. They're occasional fringe characters in the Harry Potter universe, but beyond that they have totally missed out on the treatment that vampires, zombies and werewolves have gotten in recent years. Leave it to Norway to rectify the problem. The Norwegian horror film Trollhunter made its way through the festival circuit earlier this year, inspiring people like our own Perri Nemiroff to call it "a monster movie-disaster film hybrid that doesn't take itself too seriously and the combination works beautifully not only making the piece wildly enjoyable, but surprisingly believable, too."
Norway has a rich mythological history involving trolls, which means a film like Trollhunter makes a lot of cultural sense there. But because Americans love monsters and hate subtitles, there's going to be an American remake anyway. Deadline reports that Chris Columbus's 1492 Pictures has acquired the remake rights to Andre Ovredal's original film, and they've hired Marc Haimes to write a script. It's unclear if they'll stick with the faux-documentary format, as the film follows a group of students investigating the possible existence of a troll in the wild, but given the continued success of Paranormal Activity it wouldn't surprise me if they stuck with it.
I haven't yet seen Trollhunter, so I have no idea how much a remake might butcher the original, but with the Norwegian film just now hitting VOD through Magnolia Pictures, this only seems like a good way for it to get attention. Sure, the remake might come in a few years and be totally awful, but right now this movie needs eyeballs, and news of a remake could get it a few more. Is that ridiculously optimistic, or just the reality for foreign films trying to find American audiences any way they can?
Staff Writer at CinemaBlend
Your Daily Blend of Entertainment News
Thank you for signing up to CinemaBlend. You will receive a verification email shortly.
There was a problem. Please refresh the page and try again.