Oscar Eye: Predicting The Winners In A Four-Way Race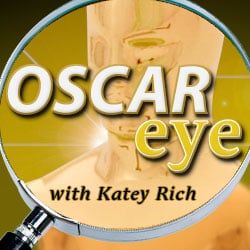 Last week, after I had written my Oscar Eye column, a flurry of speculation got going after Star Trek and District 9 pulled off surprise nominations from the Producers Guild. Some were predicting Neill Blomkamp or even J.J Abrams as a surprise Directors Guild nominee. Not to mention that Up became the first animated film to be nominated by the producers as both Best Feature and Best Animated Feature, which quieted some of the skeptics about the movie's Oscar chances. Suddenly change in the race seemed possible.
And then the DGA announced their five nominees for Best Director, and the status quo settled back in. The list of Kathryn Bigelow, James Cameron, Lee Daniels, Jason Reitman and Quentin Tarantino isn't bad by any means, but it's exactly what 90% of Oscar watchers would have predicted, give or take Clint Eastwood. In years with five Best Picture nominees, the DGA's choices for directors have matched very, very closely to the Academy's choices of picture-- meaning if you yourself are nominated for a DGA, your film is practically guaranteed a spot on Oscar's list. With 10 nominees this year, and these five directors and their films widely expected to fill in one of those slots, it seems half the roster is already settled.
While some questions remain about the other five films in the line-up-- what will replace Nine? Whither A Serious Man? Can The Blind Side seriously get a Best Picture nomination?-- it seems impossible that any film other than those represented by the DGA's picks will win Best Picture. And while Kathryn Bigelow seems to have the Best Director statue fairly locked down, it seems to be a genuine four-way race for Best Picture (sorry, Precious, but it's just not your year). So a little less than a month before Oscar announces the actual nominees, and a week before the Golden Globes might potentially shed some light on this situation, I'm going to make some actual predictions about winners for the first time, in an admittedly glib and off-the-cuff way (any of this could change tomorrow). God help me.
(Note: The Writers Guild announced their nominees today, but given that a whole host of crazy eligibility rules have shut out some really worthy contenders-- read more here-- I don't really know how to factor the WGA's choices into my predictions. So I'm leaving them out for now).
If Best Picture is truly a four-way race...
The Hurt Locker
Pros: Slew of critic's and guild awards; publicity from Kathryn Bigelow's real shot at being the first-ever female Best Director; passionate support from many could outweigh those who haven't managed to see it.
Cons: It made very little money in theatrical release; it's not exactly a movie for everyone; people still don't really want to talk about Iraq.
Shot at a win: 35%. All it needs is one big populist boost (maybe strong DVD sales?) before it feels like a solid frontrunner.
Avatar
Pros: Gigantic success; return to old-fashioned moviemaking; employed a huge amount of people; ratings bonanza.
Cons: Even its fans admits it has flaws; James Cameron already won a ton of Oscars; the Academy historically hates sci-fi.
Shot at a win: 30%. If it keeps making money and does well at the Globes, it could be the frontrunner.
Inglourious Basterds
Pros: Financial and critical hit; Quentin Tarantino is a lot more lovable now than he used to be; tons of great performances for actors (the largest Academy branch) to get behind.
Cons: Flawed in places; historical revisionism doesn't go down easy with the olds; Quentin Tarantino isn't exactly as lovable as he could be.
Shot at a win: 18%. Either of the top two would need to stumble in some way before it could take the lead, but a surprise win will seem possible up until Oscar night.
Up in the Air
Pros: Clooney; great performances all around; timely topic; by far the most accessible of the four films.
Cons: Not as smart as it would like to be; fades quickly after impressive first viewings; Reitman is still really young.
Shot at a win: 17%. This percentage feels low, but the movie seems to have peaked early as The Hurt Locker became the critical favorite and the box office success never materialized.
Now on to the charts, where not much has changed because there hasn't been much noise in the acting categories either way. The Golden Globes on Sunday will seem like they're shedding light, though only time will tell how useful those crazy awards are in the end.
Given the PGA nomination, it's entirely possible now that District 9 could jump into that 10th spot-- maybe even more possible than The Blind Side pulling it off. At this point it's the only surprise we probably have in store. I've moved Basterds into the Mortal Lock position given the DGA nomination; now we have six, with An Education and Invictus as 90% certainties. The other two spots may prove to be the most interesting and speculated-upon as the weeks go on. When The Last Station finally opens properly on January 15 it may jump into a contender position too.
Avatar
The Hurt Locker
Inglourious Basterds
Precious: Based on the Novel 'Push' By Sapphire
Up
Up in the Air
An Education
Invictus
Nine
A Serious Man
The Blind Side
District
Julie & Julia
The Last Station
A Single Man
The Road
500 Days of Summer
Bright Star
Brothers
Crazy Heart
The Hangover
The Informant!
Public Enemies
Sherlock Holmes
Star Trek
Where the Wild Things Are
Tarantino, that sly dog, has made it in as a Mortal Lock, making four spots in this category pretty much settled and the fifth likely a slugfest between Lee Daniels and Clint Eastwood. The Coens feel like possibly surprises, but without a possible win on the horizon, it's hugely unlikely.
Kathryn Bigelow, The Hurt Locker
James Cameron, Avatar
Jason Reitman, Up in the Air
Quentin Tarantino, Inglourious Basterds
Joel and Ethan Coen, A Serious Man
Lee Daniels, Precious
Clint Eastwood, Invictus
Rob Marshall, Nine
Jane Campion, Bright Star
Tom Ford, A Single Man
Lone Scherfig, An Education
John Hillcoat, The Road
Michael Hoffman, The Last Station
Michael Mann, Public Enemies
Oren Moverman, The Messenger
Jim Sheridan, Brothers
No movement here at all, not even anyone threatening Bridges' spot on top. Clooney is now feeling even more like a mortal lock, so I'm tossing him in there, but both Freeman and Renner could be replaced in some strange turn of the universe. This is what we call hedging our bets.
Jeff Bridges, Crazy Heart
George Clooney, Up in the Air
Colin Firth, A Single Man
Daniel Day-Lewis, Nine
Morgan Freeman, Invictus
Viggo Mortensen, The Road
Jeremy Renner, The Hurt Locker
Michael Stuhlbarg, A Serious Man
Matt Damon, The Informant!
Joseph Gordon-Levitt, 500 Days of Summer
Tobey Maguire, Brothers
James McAvoy, The Last Station
Sam Rockwell, Moon
Sharlto Copley, District 9
Johnny Depp, Public Enemies
Ben Foster, The Messenger
Hal Holbrook, That Evening Sun
The Last Station finally comes out properly on January 15, but only if it performs abominably will it affect Mirren's chances at a nomination one way or another. Only that or some kind of crazy last-minute surge from Tilda Swinton could potentially shake this up.
Carey Mulligan, An Education
Meryl Streep, Julie & Julia
Gabourey Sidibe, Precious
Sandra Bullock, The Blind Side
Marion Cotillard, Nine
Abbie Cornish, Bright Star
Helen Mirren, The Last Station
Tilda Swinton, Julia
Natalie Portman, Brothers
Saiorse Ronan, The Lovely Bones
Some people think Christoph Waltz isn't guaranteed the statue, and that might be true, but it's still remarkably hard to come up with anyone who's got a nomination so secured. Plummer hasn't managed to get nominated yet, so who knows what will happen; Damon is completely mediocre in a mediocre movie; and Tucci is still looking for a nomination from two different movies, one of which has pretty much self-destructed. Could Paul Schneider, Alfred Molina or Anthony Mackie work their way in there? I have no evidence to say it'll happen, but not much would surprise me in this category at this point.
Christoph Waltz, Inglourious Basterds
Matt Damon, Invictus
Woody Harrelson, The Messenger
Alfred Molina, An Education
Christopher Plummer, The Last Station
Peter Sarsgaard, An Education
Stanley Tucci, Julie & Julia
Richard Kind, A Serious Man
Anthony Mackie, The Hurt Locker
Paul Schneider, Bright Star
Stanley Tucci, The Lovely Bones
Alec Baldwin, It's Complicated
We've gone too long with Mo'nique ruling the Mortal Lock category entirely because no one else is winning anything, and I think at this point Vera Farmiga and Anna Kendrick are pretty much both guaranteed nominations. My crazy Marion Cotillard prediction stands entirely because I don't know what else to do; Penelope Cruz still just feels wrong to me.
Mo'Nique, Precious
Vera Farmiga, Up in the Air
Anna Kendrick, Up in the Air
Penelope Cruz, Nine
Julianne Moore, A Single Man
Mariah Carey, Precious
Marion Cotillard, Nine
Maggie Gyllenhaal, Crazy Heart
Samantha Morton, The Messenger
Diane Kruger, Inglourious Basterds
Melanie Laurent, Inglourious Basterds
Paula Patton, Precious
Staff Writer at CinemaBlend
Your Daily Blend of Entertainment News
Thank you for signing up to CinemaBlend. You will receive a verification email shortly.
There was a problem. Please refresh the page and try again.