Oscar-Nominated Gasland Director Arrested At Congressional Hearing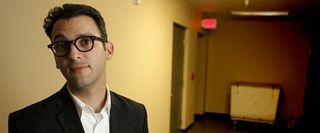 Filmmaker Josh Fox first drew notice for his 2011 Oscar-nominated documentary Gasland, which explored the reckless pursuit of natural gas through fracking, a drilling method where pressurized fluid is leveled at rock layers to create fractures which can be exploited for gathering fossil fuels. So it's little surprise that Fox was drawn to a House hearing discussing the findings of an Environmental Protection Agency draft report on the environmental impact of the controversial drilling technique. What is surprising is that the Republicans in charge of the House science committee, which hosted the public hearing, had Fox thrown out and arrested, claiming he didn't have the proper press credentials to film the event. But here's the real kicker: this public hearing he attempted to record was being broadcast live on the Internet.
U.S. Representative Brad Miller, a Democrat on the science subcommittee, has publicly opposed Fox's expulsion, and stating "all God's children" should have access to and the right to record the meeting. He went on to note that Republicans had also barred an ABC News crew from filming the proceedings. Congressman Maurice Hinchey, also a Democrat, likewise made it a point to pronounce Fox's arrest "beyond unacceptable," telling Reuters, "This is blatant censorship and a shameful stain on this Congress."
No Republicans shared similar remarks. Instead, they chose to refute the EPA's findings that declared fracking could in fact endanger the public's drinking water, accusing the EPA of favoring politics over science. The hypocrisy here would be delicious if it weren't so disturbing. But as this is a movie site, let's get back to Fox.
Since Gasland's release Fox has become a kind-of anti-fracking poster boy, which is likely why pro-fracking Republicans were so eager to oust him from the proceedings. Of course, if his removal was an attempt to avoid drawing attention to the hearing and its shocking findings, it seems kicking out a noted activist filmmaker was not the wisest strategy. Fox is currently working with HBO on a follow-up to his heralded doc, aptly titled Gasland 2, and it seems the Republicans have just given him a pretty solid climax.
The UK's Daily Mail offers this video of the event, wherein you can see Fox's arrest and hear his statement to those watching him be handcuffed:
Fox later said in a statement:
On the plus side, his arrest has not only drawn more eyes to the fracking report but also to his next project, a narrative film based on Henrik Ibsen's play An Enemy of the People. The 1882 drama centers on a Norwegian doctor who discovers the local tannery is polluting the town's water supply, an unpopular finding as much of the town depends on the tannery for their livelihood. The play's parallels to the contemporary fracking issue are readily apparent, or as Fox explained to Variety, "Even though the play is 130 years old, it really feels like something that is very evocative right now." Fox further revealed he hopes his friend and fellow anti-fracking advocate Mark Ruffalo will sign on to lead this allegorical drama.
There's no word on when An Enemy of the People will go into production.
Staff writer at CinemaBlend.
Your Daily Blend of Entertainment News
Thank you for signing up to CinemaBlend. You will receive a verification email shortly.
There was a problem. Please refresh the page and try again.