Passion of the Christ Prequel Mary Mother of Christ Snags Sanctum Director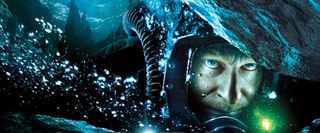 Despite its graphic violence, controversy-courting director and refusal to speak English, Mel Gibson's Passion of the Christ went on to earn more than $600 million worldwide, a financial feat that generally inspires a sequel. Of course, that's not exactly possible when it comes to the story of Jesus. So, if you can't top the greatest story ever told, why not make its prequel? That's the thinking behind Mary Mother of Christ, a drama that backers tell Deadline will be a "Biblical prequel to the story of The Passion Of The Christ," in part because it's co-penned by Passion scribe Benedict Fitzgerald and former nun turned screenwriter Barbara Nicolosi.
While the feature's financiers may want to play up Mary Mother of Christ's ties to Passion, Gibson will not be involved in this so-called prequel. Instead televangelist Joel Osteen is executive producing the picture, and Sanctum helm Alister Grierson has signed on to direct a cast that includes British stars Julia Ormond (The Curious Case of Benjamin Button) and Peter O'Toole. Ormand is rumored to play Elizabeth, mother of John the Baptist, while O'Toole said to be playing Symeon. Taking the coveted role of the mother of God is 15-year-old, Israeli ingénue Odeya Rush, who will hit screens later this year in the family dramedy The Odd Life of Timothy Green.
As you might expect from the casting of such a young Mary, Mary Mother of Christ will focus on the mother of sorrows' early tribulations, defying the demands of the cruel King Herod to save her newborn son from slaughter. Lionsgate will be handle distribution in North America, while Motive Entertainment, the marketing firm that's pushed faith-based pictures from The Passion to The Chronicles Of Narnia will cover promotions. International sales for the film are now being shopped at Cannes.
Staff writer at CinemaBlend.