Pawn Sacrifice Trailer Shows The Paranoid And Terrifying Side Of Chess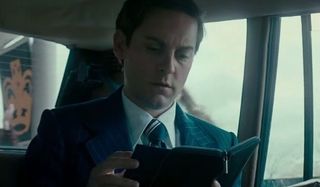 We've been waiting for a live-action movie that revolves around the pulsating and action-packed world of chess ever since Geri's Game premiered before A Bug's Life back in 1998. But now Pawn Sacrifice is on the horizon, and Liev Schreiber and Tobey Maguire have made it their mission to prove that chess is just as thrilling a movie subject as war, earthquakes, and superheroes saving the planet. And gosh darn it, this Pawn Sacrifice trailer suggests that they've succeed.
Well that got very interesting very quickly, didn't it? Also, am I the only one who just instantly fell back in love with Tobey Maguire? God, I've missed his glowing screen presence. By all accounts, it looks like the role of Bobby Fischer is perfectly suited to his talents too. My original prediction is that it's probably not enough to instantly make him an awards favorite, but you can easily see his name being touted as the autumn months lead to the awards season. And if he can build enough momentum, who knows what could happen.
As mentioned above, Pawn Sacrifice sees Tobey Maguire playing Bobby Fisher, the renowned chess prodigy whose preposterous talents around the board saw him lauded with countless superlatives and instantly turned him into an American hero. The fact that Fisher's talents were prevalent at the height of the Cold War meant that he was soon asked to go toe-to-toe with the Soviet Union's own star chess player. But Fisher, despite his undoubted ability, struggled to deal with his genius because of mental issues and the burden of his rising fame.
Not intriguing enough for you? Then check out this rather decadent poster for Pawn Sacrifice, which should complete the job of making you suitably impressed. If it doesn't, I'm done with ya.
While Tobey Maguire's Bobby Fisher will take centre-stage in Edward Zwick's (The Last Samurai, Glory) Pawn Sacrifice, which comes from a Steven Knight (Dirty Pretty Things, Eastern Promises) script, he's also assisted by a stellar supporting ensemble, which includes Liev Schreiber, Lily Rabe, Michael Stuhlberg, and Peter Sarsgaard. Pawn Sacrifice is due out on September 18, 2015. Which, for those of you who are already a tad tired of the summer blockbuster season's shower of reboots, sequels, and special effects, probably still feels like a life-time away.
Your Daily Blend of Entertainment News