Peter Jackson Denies Accusations Of Animal Abuse On The Hobbit Set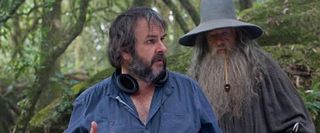 The news that emerged yesterday about the behind-the-scenes treatment of the animals featured in The Hobbit was shocking. Animal wranglers claimed that horses were kept on ground that was unstable and dangerous to them, that chickens had been mauled by wild dogs, that other animals had fallen ill for reasons that could have been prevented. It was a major claim to lob at a really major film, especially with barely a month left to go before The Hobbit: An Unexpected Journey arrives in theaters worldwide.
Now The Hobbit director Peter Jackson has taken the opportunity to respond to PETA's claims made yesterday, and as you might imagine, his version of the story is a bit different. Here's a small excerpt of the response he posted on his Facebook page:
As you might remember, two of the animal wranglers who spoke to PETA said they had been working on the production for just a few months before quitting in frustration with the treatment of the animals on the set. As there usually is when somebody leaves a job, it seems there are two very different sides of the story-- and most of us, far away from New Zealand and not knowing much about the work of animal wranglers on movie sets, have no way of sussing out the truth for ourselves.
Jackson and the Hobbit production team are not disputing, though, that two horses did die in circumstances that were "avoidable," which lends at least some credence to the idea that conditions for the animals on the Hobbit set were less than ideal. Let us know in the comments if this will affect how you view The Hobbit, and if the American Humane Association's calls to increase monitoring of sets are the only way to prevent something like this from happening in the future.
Staff Writer at CinemaBlend
Your Daily Blend of Entertainment News
Thank you for signing up to CinemaBlend. You will receive a verification email shortly.
There was a problem. Please refresh the page and try again.