Pixar's New Movie The Good Dinosaur Is Shaping Up To Be A Huge Hit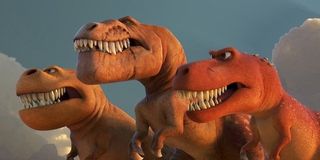 With the release and massive success of Inside Out this summer, Pixar has already had a solid year. That movie was a critical and financial hit, but in the rare year where we get a double dose from the animation studio, their upcoming The Good Dinosaur could be an even bigger smash.
Variety reports that The Good Dinosaur, which was delayed and overhauled during production—which is why audiences get two Pixar movies in 2015—the dinosaur adventure has generated "3.7 million engagements across digital platforms" in the last 30 days. To be fair, I'm not entirely sure what that means in a practical sense, but that number is significantly higher that Inside Out's at the same stage. To put it in perspective, at this point, roughly six weeks out from release, that movie had 1.5 million engagements.
This number is good for the fourth slot on ListenFirst Media's (a company who tracks and measures such digital interest) list of Digital Audience Ratings, behind only Steve Jobs, the Coen Brothers' Hail, Caesar!, and The Hunger Games: Mockingjay—Part 2. That's not bad company to be in.
The Good Dinosaur's numbers on Facebook and Wikipedia, relative to Inside Out at the same time, are similar, but on both YouTube and Twitter, it has a commanding advantage. The trailers have garnered significantly higher numbers of views, and the buzz on everyone's favorite short-form social media site are more than 300% higher.
This is a measure of fan anticipation, hype, and interest, and it will be interesting to see if it translates to box office returns. Still, however this works out, Pixar must be happy to see so much attention, especially for a project that has seen its fair share of trouble.
The film changed directors in the middle of production, and there were extensive rewrites that lead to almost all of the recorded dialogue being scrapped, and just about the entire voice cast was replaced. This all lead to the release being delayed, and as The Good Dinosaur was originally scheduled to come out last year, this is why 2014 was a year without a Pixar movie.
Even if The Good Dinosaur is a hit, it will have a hard battle to overtake Inside Out. Not only was it critically beloved (it currently has an astounding 98% "Fresh" rating on Rotten Tomatoes), it has, as of the last tally, earned more than $818 million worldwide. That's good enough to make it the fifth highest earning movie of 2015, and the third highest grossing movie in Pixar's esteemed catalog.
While The Good Dinosaur definitely looks fantastic from everything we've seen, that's a lot to live up to. We'll have to wait and see if it connects with audiences in the same way as its predecessor, but if these early numbers are any indication, it just might.
The Good Dinosaur opens everywhere on November 25.
Your Daily Blend of Entertainment News
Thank you for signing up to CinemaBlend. You will receive a verification email shortly.
There was a problem. Please refresh the page and try again.