Pixar Removes Director Bob Peterson From The Good Dinosaur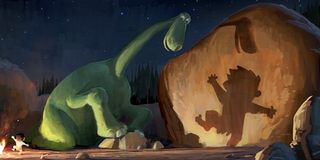 At Disney's D23 conference earlier this month the most notable absence was definitely Star Wars, which announced zero news despite persistent rumors that J.J. Abrams or someone from the studio might reveal even a title. But there was another absence that got significantly less attention-- Bob Peterson, the Up co-director who was the director of The Good Dinosaur, was nowhere to be seen, leaving the presenting duties to co-director Pete Sohn. We contacted Disney at the time and they assured us that Peterson was only absent because of a previous commitment… but as it turns out, there was much more to the story. Three weeks later, Peterson is off the project entirely.
Pixar President Ed Catmull confirmed the news to The Los Angeles Times, saying that the studio had yet to find a replacement but that several Pixar veterans, including Sohn, would continue work on the project, which is still set for release on May 30 next year. The other creatievs who have stepped in to shepherd the project are all part of the famed "brain trust," including Pixar's Chief Creative Officer John Lasseter, Toy Story 3 director Lee Unkrich, and Brave director Mark Andrews, who himself replaced Brenda Chapman. As Catmull acknowledged in his statement to the Times, replacing directors is not at all uncommon at Pixar:
Whether or not that's true about live action, it's certainly worked out well for Pixar, who replaced Jan Pinkava with Brad Bird on Ratatouille and wound up with a genuine masterpiece, and swapped Brad Lewis for a returning Lasseter on Cars 2, which then became a global hit. According to the official Pixar line there are no hard feelings after Peterson's departure-- "Bob is still working at the studio, and we hope he will stay here for the rest of his natural life," said general manager Jim Morris-- but it hasn't always gone so well. Chapman, who would have been the studio's first female director and still shared the Best Animated Feature Oscar with Andrews, spoke openly about the "heartbreaking" process of losing the film. But Chapman had only joined Pixar in 2003, just in time to start working on Brave, while Peterson has been part of the studio since 1994. Reportedly already working on his own directing project, Peterson is unlikely to make headlines similar to Chapman's.
Ideally the director change works exactly the way Pixar intends, resulting in a better film and continued camaraderie among a tight-knit group of directors willing to do anything for the betterment of the story. But there's a lot of pressure on The Good Dinosaur, as an effort to steer the once blazingly original studio away from its string of sequels. It's very likely the Pixar brain trust knew that, and now they've taken the most drastic step they have to keep the film on track.
Your Daily Blend of Entertainment News
Staff Writer at CinemaBlend
Your Daily Blend of Entertainment News
Thank you for signing up to CinemaBlend. You will receive a verification email shortly.
There was a problem. Please refresh the page and try again.