Primer Mastermind Shane Carruth Joins Production On Rian Johnson's Looper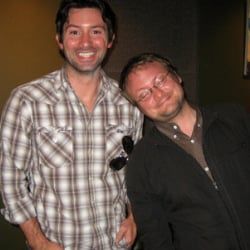 Director Rian Johnson, previously of Brick and The Brothers Bloom, will be dipping his toe into some heavy-duty sci-fi with Looper, his time-bending action project that's going into production in New Orleans next month with Joseph Gordon-Levitt, Bruce Willis, Paul Dano and Emily Blunt starring. Despite having a pretty significant Internet presence, including a Tumblr documenting Looper's pre-production process, Johnson has kept pretty tight-lipped about the film's plot, admitting only that Dano and Gordon-Levitt's characters are hitmen sent back in time to carry out their murders.
As time travel stories go that's pretty easy, but time travel in the movies is always tricky, so Johnson is now bringing in the person who may well be the living expert on it: Shane Carruth. Johnson posted on the Looper tumblr that Carruth is "working on" the film, and clarified later in a tweet that he's on board to do effects work and not act. Carruth did that and more for his only film to date Primer, which considers the actual physics and science of time travel to tell the story of two friends (played by Carruth and David Sullivan) who travel backwards in time and eventually abuse the technology and even lose sight of where they are in the timeline.
Primer, which Carruth wrote, directed, starred in and designed, is one of the twistiest and most satisfying time-travel stories you could hope to see, and fans of the sci-fi genre have been dying to see Carruth follow up on it ever since. Doing effects work on Looper isn't exactly equivalent to making another film, but hopefully it's just one step on Carruth's way bak behind the camera. Check out Primer-- it's rentable on Netflix and only 77 minutes long-- and then rejoice with the rest of us that Rian Johnson has got a mind as brilliant as Carruth's behind the scenes on Looper.
(The photo you see above is actually of Carruth (on the left) and Johnson, and comes from The Dallas Observer.)
Your Daily Blend of Entertainment News
Staff Writer at CinemaBlend