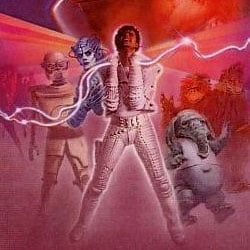 Captain EO appeared at Disney during the height of Michael Jackson's popularity. In a way, the wave of 3D movies you're being wowed by now started there, in Walt Disney World's Center, with a 3D film directed by Francis Ford Coppola, co-written by George Lucas, and starring a pre-creepy Michael Jackson. The movie played only at Disney's parks and starred Michael as the captain of a ragtag spaceship crew. It ran successfully all through the 80s and 90s at Disney's parks, and now it's back.
Disney has officially announced that a new 70mm print of the movie is returning to Disney's Anaheim, CA park on February 23rd. It will replace their Honey, I Shrunk The Audience attraction at the Tomorrowland theater, where it first debuted back in the 80s. No word yet on how long it'll remain there, but it's sure to be only for a limited time. If you've never seen Captain EO, it's worth the trip.
Back when 3D was just a cheap gimmick used on crappy movies like Jaws 3D, Captain EO was one of the first projects to really make full use of 3D technology. You might say it was the Avatar of the 80s. The action on the screen leaped out over the audience and was then augmented by actual laser impacts and smoke effects pumped into the theater along with it. It cost $30 million to produce, and Coppola made the most of it.
All 17-minutes of the film are online and you can watch them below and get a taste of what Captain EO was all about. But to really experience, it's something you had to see in full effect at Disney. Watch and then head to Anaheim:
Your Daily Blend of Entertainment News