Ridley Scott May Follow Exodus With A Movie About King David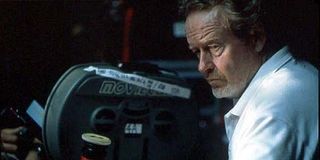 It was only a matter of time before Hollywood came calling for that sweet, sweet Bible money. This year's flood of Christian films has been so strong (with Noah leading the pack), and it's about to intensify with this year's Ridley Scott-directed Exodus: Gods And Kings. And that working relationship is bearing fruit, as Scott and Fox are once again teaming up for the epic retelling of David and Goliath.
Variety reports that Ridley Scott's Scott Free production company is reteaming with Fox to present David, a narrative about the Bible's King David. Scott's only on as a producer thus far, though the intention is for Scott to eventually direct, even if the busy director has several plans for future movies. Little-known Jonathan Stokes, who previously penned the Scott Adkins action film El Gringo, will grab the pen for this film, which reportedly will focus on the reign of King David post-Goliath.
This year has been a monster year for Christian films, which have no longer become niche properties for Kirk Cameron to hawk on late night television. Noah was a more conventional fantasy blockbuster by industry standards, but you can't scoff at the amount of true believers that helped the film gross $359 million worldwide. And Heaven Is For Real and God's Not Dead grossed $90 million and $60 million in America respectively, though they barely made a dent overseas. Still, those are meaty profits, particularly considering those last two films didn't cost much. Even the Christian-courting Moms' Night Out collected $10 million off a $5 million budget. Later this year, in addition to Exodus, Nicolas Cage takes his own stab at the genre with Left Behind.
And Scott could very well be casting his lot with the God Squad in order to score another hit. Once he finishes work on Exodus he'll be headed to the red planet with Matt Damon on The Martian. That film already has an early 2016 release date, which means they'll take their time putting it together, most likely. Fox reportedly is willing to wait for Scott to finish The Martian to get on David, but he's reportedly got a number of other films on his agenda, including a sequel to Prometheus and a follow-up of Blade Runner. IMDb claims he has 42 (!) projects in development, which is preposterous. One of them, however, remains that goofy-sounding Monopoly movie. Oh, please, Ridley, do not retire before you can tackle the story of Mr. Moneybags. The world is waiting on a chance to see a man land on Boardwalk and build a hotel in 3D. You can make all the religious movies you want, but if Monopoly doesn't happen, there is no God.
Your Daily Blend of Entertainment News
Thank you for signing up to CinemaBlend. You will receive a verification email shortly.
There was a problem. Please refresh the page and try again.