This Rotten Week: Predicting Creed, Victor Frankenstein, And The Good Dinosaur Reviews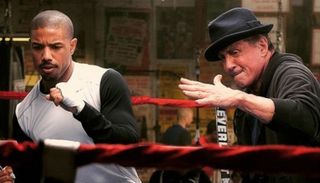 The holiday movie season is in full gear this year, with some big flicks coming out just in time for the long Thanksgiving weekend. Get ready for Creed, Victor Frankenstein and The Good Dinosaur.
Just remember, I'm not reviewing these movies, but rather predicting where they'll end up on the Tomatometer. Let's take a look at This Rotten Week has to offer.
Rotten Watch Prediction
I remember being excited for Rocky V. It was fresh off Rocky's defeat of that bastard Ivan Drago, and it just seemed like another Balboa film was coming at just the right time. That sentiment proved very much incorrect, as Rocky V was straight trash. Then, in very underdog fashion, Rocky Balboa actually punched its way to critics' hearts – and nothing more shocking has ever happened in the history of movies. Except that now we are getting another iteration called Creed, and it looks even better.
Take a look at a real boxing movie in the trailer below:
This film, from the trailer and the early reviews, is a clear example of how true talent can take really any subject matter or story line and turn it into a legit piece of art. There is absolutely no reason an effective Rocky VII should be anything but a straight-to-DVD flick and yet here we are. Playing the angle of Apollo Creed's son coming out of the woodwork in order to fight his own personal demons and for his father's legacy is the kind of thing that could be terrible. Except when that kid is played by Michael B. Jordan and the director is Ryan Coogler.
These two teamed up for the gut-wrenching Fruitvale Station (94%) and are back now with a story about a kid looking to make sense out of the senseless death of his father (by the hands of a roided-out Russian). The trailer for Creed looks fantastic and the early reviews have it at 88% with almost twenty reviews posted. That there is even a hint of Oscar buzz is a testament to the filmmaking ability.
Rotten Watch Prediction
It seems like every generation is destined to have a Frankenstein movie to call its very own. The tradition began back in the early 1930s thanks to director James Whale and the legendary Boris Karloff, and in the decades since we have seen Mary Shelley's classic story adapted again and again. Now the latest title is coming to theaters, and what this one brings to the table is at least the prettiest ensemble we've seen in Frankenstein's history.
See some dreamy scientists creating life in the trailer for Victor Frankenstein below:
I get that this is an adaptation of Mary Shelley's Frankenstein, so is immediately somewhat forgiven for its dated story. Don't barrage the comments section with notes about how I'm an idiot and should read a book or whatever. I understand the source material. That being said, in a world with robotic technology and budding AI, it seems incredibly low stakes to go back in time in order to create a fictional account of two scientists bringing to life a monster. Something about this flick's trailer just struck me as very off. It's as though they've missed something, or this movie should have come out 15 years ago. It seemed dated already and hasn't even hit theaters yet.
Of course, stylistically it looks sharp, as James McAvoy and Daniel Radcliffe are fantastic actors. But I'd be pretty shocked if the story and plot got critics over the hump here. I just can't imagine a story line that has viewers wanting to sit through the "discovery" of bringing out monster life and the subsequent pitfalls of having to fend it off. Just feels like we've been down this road before and this flick isn't treading any new ground.
Director Paul McGuigan isn't bringing much critical cache either, with previous works like Push (23%), Wicker Park (25%) and Lucky Number Slevin (51%) all falling short of the 60% fresh mark. In a technological world, we've had plenty of Frankenstein-like movies reimagined for our present tense. This seems like a step backwards, and I suspect critics agree.
Rotten Watch Prediction
If dinosaurs were still around I'd definitely have one as a pet. In additional to my very own Tyrannosaurus rex that I'd keep around for any unwelcome house guests who came around knocking, I'd also rock a ornithomimus to attract the ladies. These cute like guys measured only about 12 feet and were like a prehistoric chihuahua. In their latest film, however, Pixar is completely reversing that idea, and crafting a world where dinosaurs keep humans as pets.
Get a look at this interesting new world with the trailer for The Good Dinosaur below:
I don't need to bring up to speed on the Pixar canon, but I will anyway. Most recently they came out with Inside Out (98%), but we can always point back to the Toy Story legacy- which holds an average of 99.667% on RT). This newest film looks like it'll fit right in with the crowd. A story of what would happen if dinosaurs and humans walked the Earth together (that comet whiffed thank goodness), The Good Dinosaur features an Apatosaurus named Arlo and his human toddler friend Spot as they navigate a world of various pitfalls and dangers. This kind of story could go off the rails, but I trust the Pixar process so much that I can't imagine it isn't anything but great.
Director Peter Sohn has worked on plenty of other Pixar flicks in both the story-boarding and VO but this is his first shot at full-on directing. It's hard to imagine a Pixar film finishing anywhere but the top of the critical mountain considering they've never only had one film ever finish below 50% (Cars 2 at 39%). If you knock that outlier out of the mix then you have an average of 93% over 14 films. No other studio has this kind of success and it really isn't close.

This poll is no longer available.

I'm surprised The Hunger Games: Mockingjay - Part 2 (Predicted: 83% Actual: 70%) fell as much as it did over the course of the week. The trailer looked fantastic, but it appears the final film had many of the same issues as the final book. Namely: the story is far too silly and the plotting oddly paced that it makes the wrap up just a little too problematic. I felt this way about the book and it appears critics had the same issues with the big screen adaptation. It's not that 70% is badm mind you, but comparing it to the first flick in the series, this last one was a mild disappointment.
Meanwhile, The Secret in their Eyes (Predicted: 50% Actual: 41% ) fell within range on the prediction, but missed the halfway mark with critics. I put it at 50% originally because I would have been shocked if it ended up anywhere but the middle. The cast is great as many critics agreed, they also complained the story was boring at best and outright confusing at worst.
And finally, The Night Before (Predicted: 61% Actual: 65%) was a win in the Rotten Watch books and success (for this genre) with critics. For a stoner comedy, 65% seems like it should be up for an Academy Award. I suspect one of two kinds of critics walked into this movie: those who knew what they were getting and went along for the ride; and those who weren't ever going to like it no matter what. I'm not blaming the second group. Movies need not be for everyone.
Next time around we'll get some holiday horror fun with Krampus. It's gonna be a Rotten Week!
Doug began writing for CinemaBlend back when Terminator: The Sarah Connor Chronicles actually existed. Since then he's been writing This Rotten Week, predicting RottenTomatoes scores for movies you don't even remember for the better part of a decade. He can be found re-watching The Office for the infinity time.
Your Daily Blend of Entertainment News
Thank you for signing up to CinemaBlend. You will receive a verification email shortly.
There was a problem. Please refresh the page and try again.