This Rotten Week: Predicting Haywire, Red Tails And Underworld: Awakening Reviews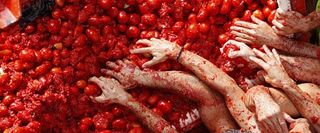 God must be in a terrible mood because Tim Tebow lost yesterday, so we'll be doing our best around here to put the big guy back in a better frame of mind. I'm just assuming He's a regular reader and all. This week Soderbergh gets a little haywire, the Tuskegee airmen take to the sky and the underworld gets another visit.
Just remember, I'm not reviewing these movies, but rather predicting where they'll end up on the Tomatometer. Let's take a look at what This Rotten Week has to offer.
Haywire
When will top secret, covert government agencies realize it's a horrific idea to put out a kill contract on the seemingly indestructible, good looking super soldier-type? As Jason Bourne, Ethan Hunt and countless others have taught us, you'll always be at the losing end of taking these folks out. Also, what kind of hobbies should I start picking up so in a few years someone will label me "Our nation's most valuable weapon"? I'm thinking tae kwon do, macroeconomics and some classes having to do with feminism studies. That ought to make me just about unstoppable.
About as unstoppable as Gina Carano's character in Haywire. Carano comes from mixed martial arts world to make her big screen lead debut. Actually, Carano might already be the world's most dangerous human seeing as how she's pretty damn hot and can probably kill you six times before you hit the ground. The character she plays in Steven Soderbergh's newest film doesn't appear too far removed from reality. She's a government operative who's roundhouse kicking her way to the truth about why someone wants her pushing up daisies.
Soderbergh has lined up a veritable who's who of potential suspects with Michael Fassbender, Ewan McGregor, Bill Paxton, Michael Douglas, Channing Tatum and Antonio How-you-say Banderas all making appearances. And the director of Contagion (84%), and The Informant! (78%) has a resume suggesting another cool flick is on the way. Some early reviews confirm that suspicion with critics lauding a hard-hitting action flick with an ass-kicking heroine at the center. Looks like a winner. The Rotten Watch for Haywire is 87%.
Red Tails
Look, my grandfather was a World War II fighter pilot, my other grandfather repaired planes in the Pacific, my pops flew with the Navy, I've flown coach a whole bunch typically preferring the window seat so I can look at the wings and stuff and seen Top Gun like seventeen times. So you can definitely understand why I'm considered something of an aviation expert. I think I've earned the title. And this experience is why I'm uniquely qualified to prejudge a flick like Red Tails.
My initial reaction to Cuba Gooding Jr. and Terrence Howard going all Tuskegee again (they're both discrimination-busting cinematic aviation experts at their cores) was to expect a production heavy on the hackney and heartstrings and light on the realism and grit typically associated with "war" films (at least authentic ones). But that stance softened a bit after the second time through the trailer. Excusing Howard's over-the-top attempts at being "inspirational" the rest of the production might have legs, err...wings. The air-fighting scenes have an authentic (if a bit busy) feel that could play on the big screen. And its PG-13 says its gearing more toward family than to a shock and awe war film.
First time film (but a ton of television credits) director Anthony Hemingway takes on this story of the Tuskegee Airmen overcoming racial segregation to accomplish feats of aeronautical awesomeness. Under the Lucasfilm label, the flick definitely feels big and could end up on the positive side of the critical scale. It won't be an award winner, but it won't critically nosedive either. The Rotten Watch for Red Tails is 62%.
Underworld: Awakening
If you were one of the six to ten people in the country anxiously awaiting another story of Death Dealing Selene and her band of vampire cronies, then have no fear, Kate Beckinsale is back with shiny black garb, glowing eyes, penchant for killing everything in her path and tendencies toward werewolf discrimination.
With special effects having similar production value to the opening of a cheap video game, this latest addition to the Underworld saga looks like it'll follow its predecessors to near the bottom of the critical barrel. The fourth installment joins Underworld (31%), Underworld: Evolution (16%), and Underworld: The Rise of the Lycans (30%) in Beckinsale's clear attempt to unseat Milla Jovovich and Resident Evil in the "Longest Running Crappy Female-Led Sci-Fi Fantasy Movie Franchise." They are neck and neck right now.
Mans Marlind and Bjorn Stein (Shelter-0%) direct what surely will be an underwhelming addition to Beckinsale's resume. The Rotten Watch for Underworld: Awakening is 23%.
This poll is no longer available.
Recapping last week:
Yet another great week of predictions with both movies coming within five percent! Check out these scores:
Contraband (Predicted: 43% Actual: 46%)
Joyful Noise (Predicted: 31% Actual: 35%)
The new year is starting on a great note, not surprising considering I'm the Tom Brady of the critical prediction game. Guys like Tom and I just win.
Next week is the 99th installment of this column and Liam Neeson gets chilly, Sam Worthington gets out on a ledge and Katherine Heigl shows up in something other than a rom-com. It's going to be a Rotten Week!
Doug began writing for CinemaBlend back when Terminator: The Sarah Connor Chronicles actually existed. Since then he's been writing This Rotten Week, predicting RottenTomatoes scores for movies you don't even remember for the better part of a decade. He can be found re-watching The Office for the infinity time.
Your Daily Blend of Entertainment News
Thank you for signing up to CinemaBlend. You will receive a verification email shortly.
There was a problem. Please refresh the page and try again.