This Rotten Week: Predicting Ice Age: Continental Drift Reviews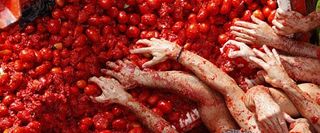 The summer movie season takes a mini-break this week with just one flick about how cold it is in other places and other times. Presumably this is just to make us jealous. We're headed back to the Ice Age.
Just remember, I'm not reviewing these movies, but rather predicting where they'll end up on the Tomatometer. Let's take a look at what This Rotten Week has to offer.
Ice Age: Continental Drift
On the East Coast, the thermometer's been rocking in the triple digits for the better part of the last week, necessitating a perpetual pumping of air conditioning which ironically, considering its energy consumption, is really just heating the world up. So, right about now the next Ice Age doesn't sound too terrible.
And just like our modern world of intense global warming and steadily rising temperatures the characters in this latest Ice Age film are experiencing the not-so-subtle shift in elemental climate change as their world steadily heats up and alters the landscape permanently. It's a harbinger of seasonal and climate changes which could render our present-day world a scorching shell of its formal self. All from the studios that brought you Rio and with the hilarious voices of Ray Romano and John Leguizamo! What a hoot!
Directed by Steve Martino (Horton Hears a Who-79%) and Mike Thurmeier (Ice Age: Dawn of the Dinosaurs-45%), Continental Drift tells the story of Scrat, Manny, Sid and Diego, navigating an ever-warming world as it geographically shifts to the continental Earth we know now. And there are really cute animal pirates!
Early reviews of Continental Drift run pretty much in line with the rest of the Ice Age (77%) franchise after the original. Ice Age 2: The Meltdown (57%) along with Dawn of the Dinosaurs held critics fairly close to the middle, with most of the reviews maintaining a theme of "I guess it's fine, if you like this sort of thing..." With those early reviews in mind, and the presumption that there are only so many Ice Age stories to tell, the Rotten Watch for Ice Age: Continental Drift is 49%
This poll is no longer available.
Recapping last week:
The Amazing Spider-Man (Predicted: 71% Actual: 73%) was real close, but I can't take a ton of credit as there were a significant amount of reviews in when I made the prediction. Here's to hoping you forget about that when I do my end of year recap.
Meanwhile Savages (Predicted: 64% Actual: 53%) just missed. I'm hoping we can get just one or two more positive reviews for Oliver Stone's pot-dealing film to get us within ten percent. Cinema Blend's Eric Eisenberg didn't do me any favors with his review. He hated it and used words and phrases like like "disappointed", "empty characters", "bad performances", "bloated", and "boring". And that was just the first two paragraphs. Suffice to say, he hated it.
Finally, much like Justin Bieber's "documentary-concert film", Katy Perry (Predicted: 44% Actual: 74%) left me well off the mark. I guess critics like these pop singer, uplifting, rags-to-riches stories presented in 3D. Not my cup of tea, but again, I'm not a 14 year old girl.
Next time around we get a little movie about Batman that no one's really talking about. It's going to be a Rotten Week!
Doug began writing for CinemaBlend back when Terminator: The Sarah Connor Chronicles actually existed. Since then he's been writing This Rotten Week, predicting RottenTomatoes scores for movies you don't even remember for the better part of a decade. He can be found re-watching The Office for the infinity time.
Your Daily Blend of Entertainment News
Thank you for signing up to CinemaBlend. You will receive a verification email shortly.
There was a problem. Please refresh the page and try again.