This Rotten Week: Predicting Sherlock Holmes And Alvin And The Chipmunks Reviews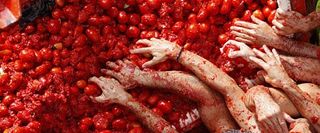 The Christmas (or whatever holiday you celebrate) season is almost upon us. And before we hit the full-fledged yuletide onslaught of movies, Hollywood likes to prime us with a little cinematic fodder. This week we get some no s#$% Sherlock while Alvin has his boys back together for a little cruise.
Just remember, I'm not reviewing these movies, but rather predicting where they'll end up on the Tomatometer. Let's take a look at what This Rotten Week has to offer.
Sherlock Holmes: A Game of Shadows
Confession time: I fell asleep the first thirteen minutes into the original Sherlock Holmes movie and never woke up so I'm probably not the foremost authority on Robert Downey Jr's foray out of the snarky Iron suit and into 19th century snarky private detective role.
But there's no denying Guy Ritchie's (Sherlock Holmes-70%, RocknRolla-59%) first attempt at re-imagining Sir Arthur Conan Doyle's highly logical nonconformist was a categorical success both critically and box office-ally. It's the kind of thing that works when a director is able to make the 19th century look even remotely interesting and Matrix-y without overdoing the camp factor (no easy feat).
Ritchie's taken the things that made Downey perfect as Iron Man and translated them into another rather iconic character by letting Junior's on screen attitude demonstrate a sense of superhero-ness that translates perfectly to the big screen.
With a few positive reviews in already, and a trailer that looks to be about the most exciting thing ever in the history of movies (god there was a s#$%load happening in this thing), I think we can solve the mystery of whether this is a viable franchise. The Rotten Watch for Sherlock Holmes: Games of Shadows is 69%.
.
Alvin and the Chipmunks: Chipwrecked
Want to know the kind of thing that makes me vomit in my mouth? No? Well here goes anyway:
What does one say after something like that? It's like a nightmare wrapped up in a rodent carcass. And I'm sure the audience exists somewhere out there for a trio of singing tamias dressed in sweaters but I don't want to be around them and neither do you unless of course your IQ rests slightly south of 70 and then you probably aren't reading this anyway.
And yet when its all said and done, assuming things shake out in an Alvin-y way, this flick will help the Chipmunks series eclipse the billion mark at the box office. Yes, that was Billion, with a B. So who cares if the first two installments averaged around 23% on the Tomatometer? Director Mike Mitchell (Shrek Forever After-58%, Sky High-73%) certainly doesn't care, he'll get his payday and idiotic movies will continue getting made. The Rotten Watch for Alvin and the Chipmunks: Chipwrecked is 20%.
.
This poll is no longer available.
Recapping last week
The Sitter (Predicted: 65% Actual: 23%)
New Year's Eve (Predicted: 17% Actual: 6%)
Couple of gripes with myself this week. First and foremost, The Sitter was my biggest miss in a long time and confirmation David Gordon Green exists on the negative side of critical comedy. I should have seen the warning signs but ignored them in my quest for another great babysitter movie. I guess it isn't a Renaissance.
Meanwhile, New Year's Eve was terrible as expected, but I had originally put my prediction in at 9% and changed it because I thought I was only doing it for the "countdown" bit. I ended up bumping it up to 17%. No one to blame but myself.
Next week is a big one. One of our biggest ever! We've got aliens invading, Tintin's Uncanny Valley, Lisbeth Salander, Spielberg's horse and Matt Damon buying a zoo. It's going to be a Rotten Week!
Doug began writing for CinemaBlend back when Terminator: The Sarah Connor Chronicles actually existed. Since then he's been writing This Rotten Week, predicting RottenTomatoes scores for movies you don't even remember for the better part of a decade. He can be found re-watching The Office for the infinity time.
Your Daily Blend of Entertainment News
Thank you for signing up to CinemaBlend. You will receive a verification email shortly.
There was a problem. Please refresh the page and try again.