This Rotten Week: Predicting Unstoppable, Morning Glory, Skyline Reviews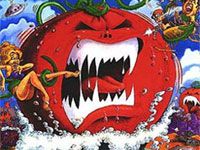 The Rotten Watch heads into this column riding another critical consensus predicting high. Last week, which I'll sufficiently brag about at the the bottom, was just more proof in the "We're awesome at this" pudding. Let's keep the good times rolling. Hitting theaters this week is Harrison Ford channeling his inner Regis, Denzel on a train, and a truly awful looking alien movie. Just remember, I am not actually reviewing these movies, but instead predicting where their Rotten Tomatoes score will fall. Let's take a look at what this Rotten week has to offer.
Skyline
Stop me if you've heard this one before: Extraterrestrials show up on Earth with vastly superior technology (they got here didn't they?) and the singular purpose of wiping out the human race. Somehow a small group of misfits band together to escape/ stop the alien attack. They run around a lot, scream a whole bunch, narrowly dodge attack after attack and, ahh screw it, this movie looks ridiculous. I don't often root for movies to be epic flops, but I'm willing to make an exception in this case because Skyline appears horrendous. Crappy dialogue. Crappier dialogue. Over-used premise. Eric Balfour and Donald Faison. Need I say more? It doesn't help that the filmmakers seem to have used the entire budget on cool blue light special effects while skimping on inconsequential things like good actors, or talented directors, or writers with any experience, or really any other necessities when making a flick.
The Brothers Strause direct. Their previous work includes Alien vs. Predator: Requiem (a whopping 12%), some short films and this Nickelback video. So there you have it, the bar has been set super low. The Rotten Watch for Skyline is 23%.
Morning Glory
Having to actually go to work each day, I don't have a ton of experience watching morning "news" shows like Good Morning America, or whatever other drivel fills up the A.M. television with banal banter between co-hosts. That being said, Morning Glory looks like a movie I can sink some teeth into. After all, it's about how stupid those morning shows actually are.
There's a few reasons to think Morning Glory will actually garner some critical acclaim. A Harrison Ford, Diane Keaton, Rachel McAdams combination has a fair amount of promise, but as we've learned the cast is only as good as the director. And Roger Michell knows what he's doing.
Michell has helmed big studio productions in Notting Hill (82%) and Changing Lanes (77%) as well as a bunch of smaller (yet critically successful) films like Venus (89%) and Titanic Town (84%). So the guy has something. The Rotten Watch for Morning Glory is 76%.
Unstoppable
You have to love seeing a trailer with the line, "Inspired by true events." The translation obviously being, in the case of Unstoppable, "Some of this stuff happened. Like there was a train going along without a driver and it could have been kind of bad. But the flipping cop cars, exploding vehicles, train full of children in its path, helicopters flying in to save the day, and touching relationship between the old conductor and hotshot rookie? Well all that s$#t we just made up."
This movie is old ground for guys like Denzel Washington and director Tony Scott. Not necessarily critically acclaimed ground so to speak, but old ground nonetheless. They've teamed up on The Taking of Pelham 123 (51%), Deja Vu (56%), and Man on Fire (39%). That I really liked two out of this three, plus a bunch of other Scott movies like Enemy of the State (70%) and Spy Game (65%) is besides the point because this director is all over the board with his movie resume. He has just as many stinkers as winners and Unstoppable is similarly unpredictable. I'm leaning toward action-packed flop.
It doesn't help that Mrs. Rotten Watch claims this movie makes her think of Unbreakable every time she sees the trailer because of "the name and train."
The Rotten Watch for Unbreak--, I mean Unstoppable is 43%.
This poll is no longer available.
Recapping last week. Well last week is why I punch the clock and write this column. It's the reason my loyal fan(s) flock here every Sunday to worship at the altar of the Rotten Watch. Three movies, three clear victories for This Rotten Week. Due Date (Predicted 46% Actual 39%) was just the kind of underwhelming Todd Phillips vehicle I feared it'd be. When the trailers leave that much to be desired, a poor critical reception can't be far behind.
Similarly, For Colored Girls (Predicted 25% Actual 32%) was just Tyler Perry being Tyler Perry. I didn't even watch the trailer for this one in order to make that prediction. When Perry is involved, you throw out a low score and feel pretty confident about it.
And finally, Megamind (Predicted 71% Actual 67%) was almost right on the money. DreamWorks does it again with a good, not great, animated film.
Next week, time officially stops, the world puts itself on hold and the most anticipated movie in a long time finally hits theaters with Russell Crowe breaking his wife out of jail!!! Oh yeah, and Harry Potter begins his final stand against He Who Shall Not Be Named. It's going to be a Rotten Week!
Doug began writing for CinemaBlend back when Terminator: The Sarah Connor Chronicles actually existed. Since then he's been writing This Rotten Week, predicting RottenTomatoes scores for movies you don't even remember for the better part of a decade. He can be found re-watching The Office for the infinity time.
Your Daily Blend of Entertainment News
Thank you for signing up to CinemaBlend. You will receive a verification email shortly.
There was a problem. Please refresh the page and try again.