Rufus Sewell And Anne Heche In Talks For The Occult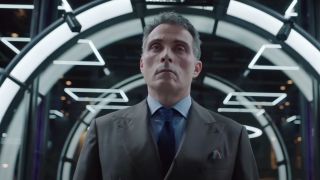 (Image credit: Netflix)
Rufus Sewell and Anne Heche are both considering returning to the realm of horror for producer Mickey Liddell's The Occult. Variety reports that Sewell, who recently wrapped on Abraham Lincoln Vampire Hunter, and Heche, who's set to star in Slash's Nothing to Fear, have entered final negotiations to front the horror-thriller alongside newcomer Alycia Debnam-Carey. Helmed by Christian Christiansen (The Roommate), this twisted tale is set among a small commune awaiting the emergence of the devil's daughter, who they believe lives among them. They expect she'll make herself known to them on her 18th birthday, and as the shared determining birthday of five teen girls approaches, a grisly string of murders causes panic in the community. Is it proof of the prophecy? Or is someone setting out to silence those who know too much?
Though this devilish offering is set to shoot this month in North Carolina, there's no word on what roles Sewell, Heche or Alycia Debnam-Carey will play. However, based on typical typecasting, we can speculate that Debham-Carey will play one of the possible spawns of Satan, Heche will play a freaked out townsperson, probably a mom, and Sewell will play a beguiling man whose motives are as mysterious as his allure.
Now, despite being a long-time admirer of Sewell and an avid horror fan, I have to admit this sounds like a half a dozen devil-centered offerings that have cropped up in the past couple of years. (The Last Exorcism, The House of the Devil, Paranormal Activity 3, The Devil Inside -- pick your poison.) There's been a real glut of this brand of horror of late, and much of seems to have the same M.O.: a girl, a demon/cult, a deeply creepy build-up that climaxes with a disappointing denouement. It's a recipe that even some truly inspired horror directors have failed to perfect, and I have little hope the director of The Roommate is going to fare any better.
Your Daily Blend of Entertainment News
Staff writer at CinemaBlend.