Russell Brand And Julianne Hough Confirmed For Diablo Cody's Directorial Debut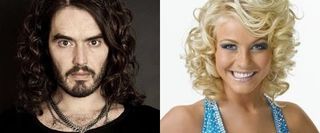 Diablo Cody has flown remarkably under the radar since 2007, when her first movie Juno won her a Best Original Screenplay Oscar and she, her stripper past and her leopard print Oscar dress were seemingly everywhere. But even though her name has become an unfair punchline for hacky and gimmicky writing, Cody herself has kept her head down and continued to work hard, completing a screenplay for Young Adult (which will be out later this year), starting work on a Sweet Valley High film adaptation, and signing on to write a remake of The Evil Dead. OK, that move definitely put her back in the crosshairs of pop culture.
And she'll be getting more attention, good or bad, once again as she prepares to embark on her directorial debut, based on a script she wrote called Lamb of God. The project has been in the works for a while, with Julianne Hough and Russell Brand bandied about as leads, and now Mandate Pictures has confirmed the casting and a spring start date. The film no longer has a title, though, going into production as Untitled Diablo Cody project. Here's the brief synopsis they provided:
Hough and Brand are both public figures who could probably relate to Cody's experience of both good and bad press-- Hough is a Dancing With The Stars breakout star who's got her first starring role in the automatically controversial Footloose remake, while Brand became a star playing a lovable lout in Forgetting Sarah Marshall but had a hard time translating that into something different with this Arthur remake this year. Cody's sharp writing may or may not translate into strong directing skills, but I like where he's headed from what we've seen so far. She's a completely unique and valuable voice in screenwriting right now, and here's hoping she can be a good one as a director as well.
Staff Writer at CinemaBlend
Your Daily Blend of Entertainment News
Thank you for signing up to CinemaBlend. You will receive a verification email shortly.
There was a problem. Please refresh the page and try again.