Will Smith And 10 Other Celebrities With Active, Interesting YouTube Channels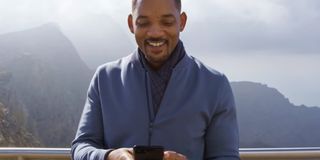 Nowadays, we're seeing more and more vloggers become bonafide celebrities through their popular YouTube channels. So much so that genuine movie stars and TV personalities are not only taking notice and turning themselves into prominent YouTubers as well. The results are... interesting, to say the least. Not every superstar has what it takes to be YouTube famous — surprisingly enough — but there are a handful of famous, popular media personalities who've made the jump into YouTube stardom, including Will Smith. His YouTube channel is just one of several celebrity-made platforms where movie/TV stars produce regular, sometimes even daily, online content for their subscribers.
These are celebrities with active YouTube accounts.
Will Smith
While Will Smith's blockbuster status ultimately isn't what it used to be, the world-famous actor/musician remains popular and active through his engaging YouTube account. Whether it's birthday celebrations that involve bungee jumping in the Grand Canyon, celebrity interactions with Liza Koshy, Joyner Lucas, and Larry David (among others), admitting casting decisions he later regretted, or even a colonoscopy video (seriously), Smith will produce content on a monthly, sometimes even weekly, basis for his followers. The results are high-energy and comical, though he'll occasionally get serious when discussing his passions and beliefs. In any case, there's no doubt that when it comes to YouTube, Smith still does things Big Willy Style.
Check Out Will Smith's YouTube Channel here.
Jack Black
An immensely talented, charismatic performer, Jack Black is an actor-musician with outstanding range and a great screen presence, though Black has recently shifted his focus towards making YouTube videos. Specifically, as Jablinkski Games, Black makes game-plays, playing the newest, hottest video games in quick-bite videos. The YouTube page allows Black to reach his audience from the comfort of his home, and it looks like he enjoys that accessibility. Last year, when Jumanji: The Next Level hit theaters, Black claimed that he was retiring from moviemaking to spend more time with his family and working on other projects, including fostering his YouTube channel and new Tenacious D music. It would be a great shame to no longer see Black on the silver screen, but with nearly five million subscribers and counting, Jack Black is definitely gaining a massive YouTube fanbase.
Check Out Jack Black's YouTube Channel here.
Kevin James
Though he's best known for sitcoms like The King of Queens and Kevin Can Wait, as well as movies like Grown Ups 1 & 2, Paul Blart: Mall Cop 1 & 2, Hitch, and the Hotel Transylvania franchise, Kevin James forged an odd new YouTube career, where he'll regularly post short films that surprisingly aren't always directly comedic. Even some of the intentionally funny videos are more darkly amusing, like the one above. In fact, as Polygon noted, these shorts show a previously-unseen dramatic range for James, suggesting that he might want to venture into more serious projects. They're based on thin premises, like James eagerly waiting for a green light, misreading a hand wave, or spending birthdays by himself, but many carry a sense of melancholy and restraint that was previously unseen from the performer.
Check Out Kevin James' YouTube Channel here.
Ryan Reynolds
Even though Ryan Reynolds is a world-famous movie star, the actor-producer keeps an active online presence. Much like Deadpool, Reynolds is jokey, fun-loving, and irreverent when it comes to his YouTube account. The actor is more active on the platform whenever there's a movie to promote (makes sense), but he's known to post goofy, genuinely funny videos, including the one seen above, as well as this meta advertisement, which gives the actress at the center of the widely-mocked Peloton ad the redemption she deserves while also peddling out Reynolds' signature gin. While a majority of these videos promote his movies or alcohol brand, they all carry the A-lister's signature cheeky sense of humor. They certainly have more consistent entertainment value than some other celebrity YouTube accounts. Of course, we'd expect nothing less from Reynolds.
Check Out Ryan Reynolds' YouTube Channel here.
Tia Mowry - Tia Mowry's Quick Fix
Better known as one half of the popular sitcom, Sister, Sister, as well as Disney Channel movies like Twitches and Twitches Too, actress Tia Mowry has continued to work as a TV personality, notably in The Game, Instant Mom, and the ongoing Family Reunion, but the former child star has also been building a YouTube presence. Her channel, Tia Mowry's Quick Fix, finds her making food, answering questions, providing updates on her family life, and more. Mowry produces a new video on at least a monthly basis, sometimes weekly, and has gained nearly 718,000 subscribers.
Check Out Tia Mowry's YouTube Channel here.
Russell Brand
An English actor-comedian who came to fame through Forgetting Sarah Marshall, Get Him to the Greek, Hop, Arthur, and the first two Despicable Me movies, Brand shifted his career towards activism and campaigner, and that's more commonly reflected on his YouTube channel. If you go to Brand's YouTube and expect more jokey videos, you'll be disappointed. Brand's YouTube presence focuses on the British comic discussing political and psychological topics, while also exploring religion, neuroscience, mediation, and other heady conversation pieces. The videos can be broad-reaching in their focus, though they showcase Brand's eagerness to explore a variety of dense topics in a thoughtful, mindful way. Brand is also consistent in his content. He'll post more-than-a-few videos a week. Sometimes, he'll post daily. He has amassed more than two million followers.
Check Out Russell Brand's YouTube Channel here.
Zac Efron
The former teen heartthrob who became a household name through his High School Musical role, Efron's adult years have featured a few daring, unconventional career choices, though his YouTube channel is more mainstream. Though he doesn't post as often as some other celebrities on this list, Efron provides celebrity-filled workout tips, as well as taste tests and a few adventure-filled videos. Admittedly, Efron hasn't produced any new content here in five months, though his consistency on YouTube tends to come in waves.
Check Out Zac Efron's YouTube Channel here.
Gordon Ramsay
A chef, restaurateur, and television personality, Ramsay has juggled several professions throughout his career, which means that his YouTube transition was understandingly swift. Through his account, which welcomes celebrities like Rhonda Rousey, the Bella twins, Steve-O and more, Ramsay is seen making a variety of dishes in a short span of time. There are also comical videos where Rasmay "tries out" for the NFL and indulges in a Christmas-themed road trip. But for the most part, the content is predominately food-based, which makes sense. Though he's known for his temper, Ramsay's videos seem more casual and informative in their approach, garnering him 14-plus million subscribers.
Check Out Gordon Ramsey's YouTube Channel here.
Adam Savage - Adam Savage's Tested
Best known for his long-running Discovery Channel series, MythBusters, Adam Savage's YouTube page is expectedly in a similar vein. The account, which primarily finds Savage working on inventions and gadgets, continues the TV personality's interest in inventions and science, allowing him to continue building/assembling strange and exciting new tech while he providing informative tips and lessons to his nearly five million subscribers. If you enjoyed watching MythBusters, there's a good chance you'll enjoy Savage's YouTube account as well.
Check Out Adam Savage's YouTube Channel here.
Jenna Dewan
A back-up dancer-turned-actress-turned-TV personality, Jenna Dewan has made several career transitions over the years, which might explain how she was comfortably able to become a YouTube star. On her channel, the dancer-actress makes videos that provide viewers with Q&As, tips, dance tutorials, haircare products, personal reflections, and more. The actress had a habit of posting a new video every two weeks in the early days, though she's been less consistent lately. Specifically, it should be noted that Dewan hasn't published a new video in six months, which means she might've moved away from her channel, though Dewan's active presence on the site prior to this extended absence — through which the TV personality gained nearly 500,000 subscribers — suggests she might come back to YouTube later down the road.
Check Out Jenna Dewan's YouTube Channel here.
Madelaine Petsch
Though she's best known for her role on The CW's Riverdale, Madelaine Petsch has also kept a consistent YouTube profile, where she makes make-up tutorials, craft videos, Q&As, hairstyle tips, and more. Similar to the other channels listed above, these various videos give Petsch's followers regular updates on the TV actress, but some of them also give helpful and informative beauty and wellness tips, notably with a few new videos that provide feedback and opportunities for people like herself who are stuck at home, looking for ways to past the time in quarantine.
Check Out Madelaine Petsch's YouTube Channel here.
Who is your favorite celebrity on YouTube? Tell us in the comment section!
Will is an entertainment writer based in Pittsburgh, PA. His writing can also be found in The Playlist, Cut Print Film, We Got This Covered, The Young Folks, Slate and other outlets. He also co-hosts the weekly film/TV podcast Cinemaholics with Jon Negroni and he likes to think he's a professional Garfield enthusiast.
Your Daily Blend of Entertainment News
Thank you for signing up to CinemaBlend. You will receive a verification email shortly.
There was a problem. Please refresh the page and try again.