Sacha Baron Cohen Cast As Les Miserables Villain?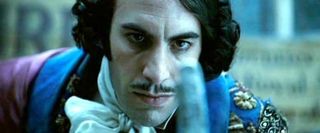 News has been coming fast and furious about Tom Hooper's adaptation of the Broadway musical Les Miserables, which has Hugh Jackman and Russell Crowe starring in a cast of literally thousands. A lot of the key roles are still being cast, including the meaty role of Eponine, but word now has it that a much smaller part has been cast. The actor Matt Lucas, who you might know from Little Britain or as Tweedledee and Tweedledum in Alice in Wonderland, has tweeted for whatever reason that Sacha Baron Cohen has been cast in the film. Here's the tweet in question:
The information isn't quite as random as it seems-- Lucas played Thenardier in a concert production of Les Miserables last year, and presumably a fan had been hoping he would reprise the role in the film. Lucas's comment sounds like exactly the friendly thing you say when someone else has been cast in a part you could have had, and if he and Baron Cohen really are friends, it makes sense Lucas would know about it before the news was officially announced.
Granted, this is not official confirmation, and who knows what might change between now and when Les Miserables goes into production. But Thenardier, the villainous innkeeper who sings the big number "Master of the House" and with his wife is one of the only true bad guys of the play, sounds like an ideal role for Baron Cohen, showy but small-- not unlike his role as Perrelli in Tim Burton's Sweeney Todd. There's no guarantee that Baron Cohen will actually be playing the part, but from where we stand, it's a good choice. What say the rest of you?
Staff Writer at CinemaBlend
Your Daily Blend of Entertainment News
Thank you for signing up to CinemaBlend. You will receive a verification email shortly.
There was a problem. Please refresh the page and try again.