Safe House Director Daniel Espinosa Talks Bringing The Right Team Together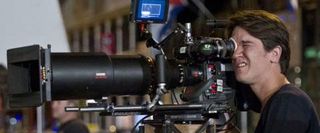 Had I seen the Swedish action film Snabba Cash before speaking to the film's director Daniel Espinosa, I would have known what to expect from both him and his new film; Safe House is one heck of a wild ride. It stars Ryan Reynolds as Matt Weston, a young CIA agent stuck babysitting a safe house. Matt's desperate to get out in the field as a case agent, but the problem is, they won't hire him until he gets some experience and there's no experience to be had in the safe house. Well, that is until Matt gets a high-level houseguest, the CIA's most notorious traitor, Tobin Frost (Denzel Washington). However, even then, it's Daniel Kiefer (Robert Patrick) and his men that take over. It isn't until a group of armed men barrel into the safe house unleashing a barrage of bullets that Matt's "experience" really begins, as now he's the only one left to bring Frost safely into CIA custody.
You know the clichéd phrase, "you've got to see it to believe it?" That's certainly the case with Safe House. It's one thing to kick off the production with a solid script, but a guy like Espinosa is a necessity when it comes to bringing the piece to life the right way. As a director, Espinosa doesn't hold back in the least, casting the roles as he sees fit, designing car chase sequences even though he doesn't drive himself and even getting into the wheel well to catch the action.
His methods are both unique and fueled by passion, and that turns Safe House into a thrilling and gripping ride, one you really do have to see to believe. Give the film a go for yourself when it arrives on February 10th and, in the meantime, get a taste of what it was like to bring David Guggenheim's script to life straight from Espinosa himself in this video interview.
Your Daily Blend of Entertainment News
Staff Writer for CinemaBlend.
Your Daily Blend of Entertainment News
Thank you for signing up to CinemaBlend. You will receive a verification email shortly.
There was a problem. Please refresh the page and try again.