Sam Raimi Will Not Direct Poltergeist Remake After All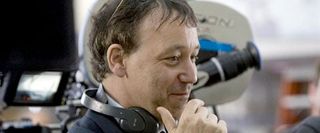 No matter how many Spider-Man movies and glossy adventures like Oz The Great And Powerful filmmaker Sam Raimi puts between himself and his early efforts, he will never escape the splatstick shadow of his Evil Dead trilogy. Thankfully, it looks like Raimi's okay with that, as he recently battled to maintain his copyright on the property, co-produced a reboot with long-time collaborator Bruce Campbell, and is rumored to be considering an Evil Dead 4. An imaginative director with a wild sense of humor, it's been great seeing Raimi expand into other genres, but 2009's devilishly fun thriller Drag Me to Hell has left many horror fans desperately craving for more and more Raimi horror.
Just yesterday it seemed our hopes were answered with news that Raimi would resurrect undead terrors by directing the remake of Poltergeist, penned by playwright turned screenwriter David Lindsay-Abaire. While the original film is still freaky and fun, I'd personally be open to seeing a newer take on the creepy premise of a family whose youngest is abducted by malevolent spirits. Plus, with Raimi and Lindsay-Abaire, who penned Rabbit Hole and Oz The Great And Powerful, on board, this project had some added allure. Sadly, THR was forced to revise their original article when Lindsay-Abaire noticed an error. He took to Twitter to lay it out:
Now THR has amended their original post to say Raimi will not helm, but rather produce the Poltergeist reboot.
Personally, I find this a major let down. Last weekend, I was lucky enough to see Bruce Campbell in all his strutting, big-chinned glory, promoting the Evil Dead reboot at a panel at NY Comic Con. And while Campbell was incredible, Raimi's absence was noticeable. During the event, Campbell insisted a reboot was necessary for the Evil Dead franchise to continue, calling himself and Raimi "too old" to shoulder it any longer. When the crowd booed in rebuke, Campbell shrugged and said maybe an Evil Dead 4 would happen after all, a statement that—no matter how half-hearted—was met with cheers.
In light of news Raimi is producing and not directing another horror feature, I begin to wonder if he feels he's lost his touch. But this seems impossible since the last horror film he helmed, Drag Me to Hell, was a box office success that was nearly universally praised by critics, and resolutely adored by horror buffs. What say you? Do you want Raimi to return to directing horror? Sound off in the comments.
Staff writer at CinemaBlend.
Your Daily Blend of Entertainment News
Thank you for signing up to CinemaBlend. You will receive a verification email shortly.
There was a problem. Please refresh the page and try again.