Scarface's Stephen Rea Name Drops The Cast For Universal's Werewolf Project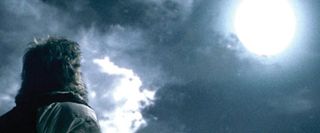 We learned a couple months ago that Universal is of the philosophy that if at first you don't succeed, try try again, and will be taking another stab at the werewolf genre. Of course, this tactic did work for Marvel, rebooting The Incredible Hulk merely five years after it's catastrophically horrible predecessor proved helpful not only to the Avengers series, but to their wallets as well. But The Wolfman tanked just last year, and Universal is already finding a way to rework the sequel into a completely different werewolf project to be helmed by Louis Morneau, veteran direct-to-DVD horror filmmaker.
In an interview with Movie Hole, Scarface star Steven Bauer dropped a few names that will appear in the film when it goes into production in a few days. English actor Stephen Rea, who you'll know better as Finch from V for Vendetta, will be heading to Romania with Bauer along with Ed Quinn. Quinn appeared in many episodes of Eureka but, now that Syfy has cancelled the show, his hopes of appearing in any more episodes have been dashed and thankfully he's found some more work. It's just a bummer that this is where he found it.
I shouldn't have to tell you guys this, but remaking The Wolfman after just one year is a shitty idea. Maybe the shittiest idea. Last year's film, despite Anthony Hopkins and Benicio del Toro, failed to regain its budget in the worldwide market and there's no way that there's any audience interest in seeing yet another version of a movie people already think is going to suck. The film was teeming with recognizable names and even the director, Joe Johnston, is a name people will know. But for this as-yet-untitled Universal project, none of the names are recognizable or will create a draw, and when one bad review from a critic hits the web, this film will be all but dead.
More on this as it unfolds in an undoubtedly disastrous way.
Your Daily Blend of Entertainment News
Thank you for signing up to CinemaBlend. You will receive a verification email shortly.
There was a problem. Please refresh the page and try again.