Scorsese's Hugo Hits DVD February 28th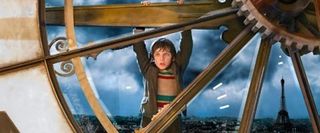 Martin Scorsese's fantastical Hugo may still not have made back its budget yet ($170 million according to IMDb; it's grossed $75.6 million worldwide so far), but it's definitely earned some fans in Hollywood. It's landed 11 Oscar nominations, including Best Picture and Best Director alongside unsurprising nods in categories like Visual Effects and Costume Design. Unfortunately, if you were hoping to watch it before the Academy Awards air, you'll have to try to find a theater still playing it, because Hugo won't arrive on Blu-ray and DVD until February 28th.
Hugo is an adventure set in the 1930s and based on Brian Selznick's novel The Invention of Hugo Cabret. It's about a young boy named Hugo (Asa Butterfield) who lives in the walls of a Paris train station, stealing food to survive and working on his dead father's last project: a mechanical man. Convinced that the automaton contains a secret message from his father, Hugo sets out on an adventure that will eventually cross his path with that of George Melies, the filmmaker of A Trip to the Moon.
Paramount Home Media Distribution will release Hugo as a 3D Blu-ray, standard Blu-ray, DVD, digital download, and On Demand on February 28th. The physical copies will all be sporting UltraViolet capability, which allows you to claim a digital copy of the movie and then watch it on any computer, mobile device, or net-connected TV. It will be available as a three-disc 3D/Blu-ray/DVD combo pack, as a two-disc Blu-ray/DVD pack, and as a single-disc DVD. Here's how the discs will break down.
Blu-Ray
Feature film in high definition
Shoot the Moon (The Making of Hugo)
The Cinemagician, Georges Méliès
The Mechanical Man at the Heart of Hugo
Big Effects, Small Scale
Sacha Baron Cohen: Role of a Lifetime
DVD
Feature film in standard definition
The single-disc DVD will be mostly bare bones, but will include the "Shoot the Moon" making-of segment. You can read more about Hugo in our Blend Film Database.
Your Daily Blend of Entertainment News
Your Daily Blend of Entertainment News
Thank you for signing up to CinemaBlend. You will receive a verification email shortly.
There was a problem. Please refresh the page and try again.