See The Playlist Cameron Crowe Used To Woo Matt Damon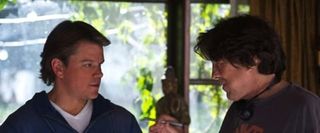 If you're of my generation or older, it's a time-honored tradition for the chronically romantic: the mixtape. The lovingly crafted compilation designed to tell that special somebody (or potentially special somebody) just how you feel, in words and phrases far more eloquent and catchy than anything your sorry ass could come up with. The phenomenon is no stranger to the big screen, having been celebrated in movies like High Fidelity and Nick and Norah's Infinite Playlist, and while the concept may have gone digital and become the "playlist," the basic concept is still there. If there's any director out there who definitely understands the mixtape, it's Cameron Crowe. The soundtracks to his movies are nearly as important as the script and the actors. So it's no surprise that when Crowe decided to try and convince Matt Damon to star in his new movie, We Bought a Zoo, he turned to his secret weapon: he made Damon a mixtape (fine, playlist, whatever).
Crowe realized he had a hard sell on his hands. While Crowe's involvement automatically made the project worthy of interest, the core concept -- a grieving dad tries to move on from the death of his wife by buying and restoring a run-down zoo with his kids -- could easily veer off into schmaltzy territory. Crowe was all too conscious of this, and knew Damon would be as well, so he gave the actor the personal touch. According to an interview with THR, Crowe flew to the set of True Grit and hand-delivered Damon a package that included Aline Brosh McKenna's script for We Bought a Zoo, a CD playlist he had burned, and a copy of the 1983 movie Local Hero, which apparently echoed the tone he was going for. Crowe told Damon, "I know what you're going to be afraid of; the bad version of this movie is really a movie you don't want to be in. That's what I'm afraid of too." But he invited Damon to give the playlist a listen and then join him in trying to make the good version of the movie. Damon listened to the mix, liked what he heard, and signed on to star.
So, what was the magical mix that won Damon over? Courtesy of THR, here's the list:
Save It for Later … Pete Townshend
I'm Open (Live) … Eddie Vedder
War of Man (Live) … Neil Young
Soul Boy … The Blue Nile
Mohammed's Radio … Jackson Browne
Sanganichi … Shugo Tokumaru
Airline to Heaven … Wilco
Buckets of Rain … Bob Dylan
The Heart of the Matter (Live) … Don Henley
I Will Be There When You Die … My Morning Jacket
Ain't No Sunshine … Tom Petty And The Heartbreakers
Child of the Moon … Rolling Stones
If I Am a Stranger … Ryan Adams
Concrete Sky … Beth Orton
Helpless (Live) … Neil Young
Don't Be Shy (no piano) … Cat Stevens
Nerstrand Woods … Mark Olson And The Creekdippers
We Bought a Zoo opens in theaters on December 23rd.
Your Daily Blend of Entertainment News
Thank you for signing up to CinemaBlend. You will receive a verification email shortly.
There was a problem. Please refresh the page and try again.