See The Troll Living On Joaquin Phoenix's Forehead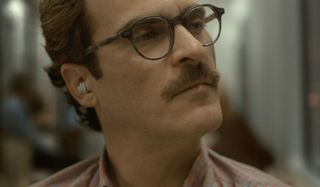 Joaquin Phoenix is an accomplished actor, nominated three times for an Academy Award thanks to impeccable performances in Gladiator, Walk The Line and The Master. Last year, it was speculated he could be up for his fourth courtesy of his tender turn in Spike Jonze's Her. But instead of getting recognition for his Her role, he's getting recognition for his head troll. To understand what I'm talking about, you must watch the video above in full.
Movies.com tipped us to this odd bit of internet gold that shows a moment from Her that is the film is quite sweet. But if you zero in on Joaquin Phoenix's forehead, you notice it is having a range of emotions all its own. And it sort of looks like a troll. Well, I'd argue a gnome, but semantics.
In case you--like us--can't look away, let's take an extended look at Phoenix's forehead troll in the GIF below:
Look at this hairy little charmer. Is it weird to hope Joaquin Phoenix might try to do a movie where his forehead is the star? I mean, it wouldn't be any stranger than the "documentary" I'm Still Here.
Lest we forget, Phoenix put on weight and a mangy beard, and put his reputation and career at risk with a barrage of bad behavior and an attempt at a rap career. One of the most shocking moments of that project was when Phoenix went on Late Show with David Letterman and gave this very uncomfortable interview while promoting Two Lovers.
Forehead troll is a lot more fun. Can we all get on board with this and start looking at more forehead creatures? It need not be solely celebrities. Though there is a special joy at being able to find such silliness in such serious performances. It reminds me of that delightful vine series that exposed Ryan Gosling's deep hatred of eating cereal.
Good stuff.
Staff writer at CinemaBlend.
Your Daily Blend of Entertainment News
Thank you for signing up to CinemaBlend. You will receive a verification email shortly.
There was a problem. Please refresh the page and try again.