On The Set With Watson And Holmes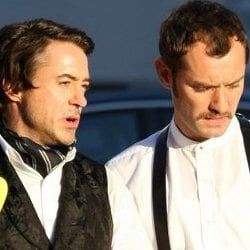 Attention ladies, gay men, and anyone who appreciates sartorial hotness. Just Jared has gotten its hands on another set of photos from the Sherlock Holmes set, and this time they include Jude Law in costume as Dr. Watson. Robert Downey Jr. is also on the set, and far from being dressed like a stylish hobo as he was in the last set, this time he's in simple Victorian-era menswear. He and Jude Law look like bartenders in the Old West, and I couldn't be happier.
Check out a few of the photos below, and see the full gallery of about 10 photos at Just Jared. There's still no information about what the movie will be about, but who needs plot when you have Jude Law wearing suspenders?
Staff Writer at CinemaBlend
Your Daily Blend of Entertainment News
Thank you for signing up to CinemaBlend. You will receive a verification email shortly.
There was a problem. Please refresh the page and try again.