Sharon Stone Is Jimmy Fallon's Mommy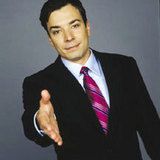 Think Jimmy Fallon is regretting his decision to leave 'Saturday Night Live' yet? He came back to do a cameo with Justin Timberlake on their Christmas episode last week, and something tells me he might wish it could be a permanent return. Come on dude, give it up. That movie career is going nowhere.
But the eyeliner loving Mr. Fallon is not giving it up. Variety says he's managed to weasel his way into two more movies. First, he'll be in the indie film Eliot Rockett, along with fading hottie Sharon Stone. The movie casts Jimmy as a work-a-holic with commitment issues. When his father has a stroke, he returns home where he has to deal with a dysfunctional past that includes a mother played by Stone. I liked this movie better when it was called Garden State.
The second film is a more high profile project, There's no title yet, but it's a comedy based on a script Fallon co-wrote and could be directed by Bruce Almighty and Evan Almighty helmer Tom Shadyac. No plot details yet, but I'm sure it will be every bit as original as Eliot Rockett.
Your Daily Blend of Entertainment News
Thank you for signing up to CinemaBlend. You will receive a verification email shortly.
There was a problem. Please refresh the page and try again.