Shawshank Redemption's Prison Has Been Renovated For Tourism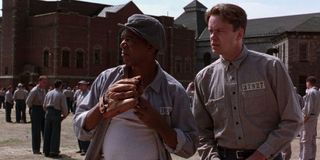 The Shawkshank Redemption was a disappointment at the box office in 1995, pulling in just $3 million more than its budget. But as years passed, it became a movie beloved by many, possibly in part to its high re-run count on cable television. Whatever the reason, the public became entranced by the tragedy of innocent convict Andy Dufresne. And now, fans of this seven-time Oscar nominee can plan a pilgrimage to its key location.
The Pittsburgh Gazette reports that the Ohio State Reformatory that served as the main location for The Shawkshank Redemption's prison is now being opened for tours. Book your ticket to Mansfield, Ohio, to enjoy a closer look at the incredible building that played home to the Frank Darabont drama.
The reformatory is a high point in a 13-stop Shawshank Redemption bus tour that includes visits to filming locations like the Bissman building where Brooks hung himself (Red decided to get busy living instead of get busy dying), the bench where Brooks fed the birds, Malabar Farm State Park where Andy followed his cheating and doomed wife, and what remains of the old oak and stone wall where Andy led Red. Unfortunately, overeager souvenir hunters have mostly torn the wall to pieces. And high winds downed the tree, which not lies on its side near a pond.
This past weekend, the Ohio State Reformatory celebrated The Shawshank Redemption's 20th anniversary with a special celebration that included re-enactments, appearances from local extras, and a 1940s-themed cocktail party staged in the renovated guard room.
Described as a "massive stone structure," the building boasts walls that are 6 feet thick at their base, 25 feet tall and 250 yards long. So once the former boys reformatory turned maximum security prison was closed in 1990 after 94 years of service, it was a dizzying matter to tear it down. Instead, the Mansfield Reformatory Preservation Society purchased the building for $1 with the agreement they'd maintain and improve the structure by opening it up to tourism. Its eerie interiors lent themselves to hosting ghost hunts, Halloween festivities, and murder mystery dinners. But the Shawshank Redemption tours have brought in an estimated $10 million dollars to Mansfield, just last year.
The town is looking to amp up the attraction with new renovations, repairing old cathedral windows, reconnecting heat to forgotten wings, making the facility weather-tight to allow for year-long access by tourists, and much, much more.
You can plan your own trip here. But be warned, you don't want to close the cell doors behind you, or else things might get too real. "To be honest, we don't have keys for some of these," says tour guide Pastor Ron Puff "We have 'get out of jail free' cards that we hand out, but they know if they get stuck and we have to call someone in here to free them, they're paying for it. And if it's on a weekend, they might be there until the next day."
To watch a local news report on this celebration, click to the next page.
Staff writer at CinemaBlend.
Your Daily Blend of Entertainment News
Thank you for signing up to CinemaBlend. You will receive a verification email shortly.
There was a problem. Please refresh the page and try again.