Sigourney Weaver In The Ghostbusters Reboot? Here's What She Said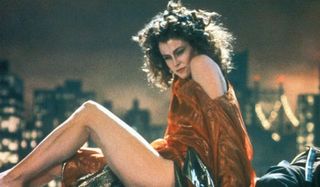 Sigourney Weaver is already helping her Chappie director Neill Blomkamp continue plotting Alien's resurrection with an all-new installment, but what about another one of her other properties that's returning from the dead? Paul Feig is rebooting Ghostbusters with an all-female principal cast, but will Weaver have some part to play in the new film?
Screen Rant caught up with the actress during a recent Chappie press junket and broached the subject. While the 65-year-old actress would love to be included in some way, it looks like nothing is yet set in stone.
By "us," she's likely referring to some of her original Ghostbusters cast mates. Prior to the announcement of the new crop of Ghostbusters with Kristen Wiig, Kate McKinnon, Melissa McCarthy and Leslie Jones, Dan Aykroyd was working on a script with director Ivan Reitman. So, he's a probable candidate for some sort of cameo, should the producers want to include some throwbacks. There's also Ernie Hudson, Bill Murray, Rick Moranis and Annie Potts, to name a few. Though, Murray had previously expressed his disinterest in returning for the Ghostbusters fold when Aykroyd's script was still on the table. Perhaps a brief cameo that wouldn't require a lot of time from the busy actor would better suit his schedule.
As for Weaver, we'd love to see her return in whatever capacity. She famously portrayed Dana Barrett, an orchestral cellist and the love interest of Murray's Peter. The most famous image of her in the film, though, has to be after she's possessed by "The Gate Keeper," one of two spectral watch dogs of Gozer. The ghostly possession transformed her from a freaked out civilian into the object of prepubescent boys' fantasies. So much of the conversation around this reboot has been about the all-female cast. If anyone from the original cast should return for a cameo, it should be Sigourney Weaver.
Paul Feig has endured both harsh and misogynistic criticism from the fans over his new take on Ghostbusters, with the worst comments on social media blaming him for ruining childhoods. (That old gag.) Despite some earlier comments from Ernie Hudson, which he later attempted to remedy, the original cast members have been supportive of the new endeavor. Weaver also told Screen Rant that she thinks the film will be "fantastic" and how she can't wait to see the gals in action. Maybe if she's involved in some form, these haters might think less of their statements.
Your Daily Blend of Entertainment News
Thank you for signing up to CinemaBlend. You will receive a verification email shortly.
There was a problem. Please refresh the page and try again.