The Sopranos' Edie Falco Signs On For Iraq War Drama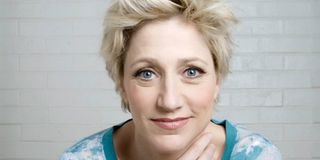 In both The Sopranos, as well as Nurse Jackie, Edie Falco has played a strong woman who knows more than a thing or two about motherhood. Those skills are going to come in handy, as she's has signed on to star in the independent biopic Megan Leavey - which recalls the title character's two tours of Iraq with her bomb sniffing combat dog Rex.
Deadline reports that Falco, also of Nurse Jackie fame, will be playing Megan's mother, coincidentally named Jackie Leavey, while Kate Mara will be playing the titular role of Megan. Directing them both is Gabriela Cowperthwaite, who is best known for the documentary Blackfish - a film which opened a floodgate of criticism against the aquatic theme park SeaWorld. Jennifer Monroe, Mickey Liddell and Pete Shilaimon of LD Entertainment will serve as producers on the project.
Megan Leavey will focus on the story of the Iraq War veteran and Rex, her German Shepherd combat partner. Together, the team served two tours in Iraq between 2004 and 2006, and were said to have been responsible for saving countless lives as Rex sniffed out roadside bombs. While Leavey received her discharge from the Marines in 2007, Rex continued in the service for another five years. At that point, he was scheduled to be euthanized, but his old partner Leavey came to the rescue and adopted him. They remained reunited as Megan Leavey continuing to care for Rex, until his passing in 2012 - just 8 months after coming home.
Edie Falco is no stranger to tough, gritty roles, especially after showing the world her moxie against James Gandolfini's Tony Soprano. But Falco has also shown the varying depths of her acting skills as Showtime's drug addicted Nurse Jackie. Seeing as she's able to bring the durability and endurance of a catcher's mitt, while evoking sympathy at the same time, Falco is perfectly suited for the role that will play a game of Cat's Cradle with the audience's heartstrings.
Kate Mara, on the other hand, is quite literally coming from opposite ends of the universe. From the depths of Fantastic Four to the heights of The Martian, it will be incumbent on her to bring the necessary weight to really nail the lead role of Megan Leavey. Which means that the film, as well as Mara's performance, will both certainly benefit from Falco's essential contribution to help bolster the emotional bottom line.
Megan Leavey currently has no release date scheduled, but it can be assumed that the project will aim for a 2016 release. Kate Mara and Edie Falco are the only two attached to the project that have been announced this far, which means that any further casting announcements could make things more interesting. LD Entertainment is the production company behind the nature thriller The Grey, which starred Taken's Liam Neeson, as well as the acclaimed indy comedy I Love You Phillip Morris, which starred Jim Carrey opposite Ewan McGregor.