Stan Lee's New Sci-Fi Movie Sounds Awesome, Here's What We Know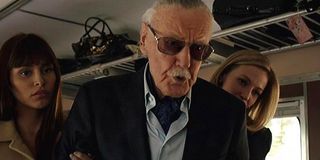 You probably know Stan Lee best for being the creative force behind some of your all time favorite comic book characters (or maybe his ubiquitous Marvel movie cameos). He's truly a legend when it comes introducing the world to fantastic new nerdy superheroes. Even though he is 92-years-old, he doesn't appear to be slowing down, and a new sci-fi movie project he has brewing has the potential to be completely awesome.
Variety reports that Lee and his POW! Media are getting set to team up with a Taipei-based media company to launch a new movie franchise called Arch Alien. Though details are sparse, what the trade does reveal certainly sounds promising from where we sit. The project, which already appears to be pretty far down the production path, is said to be an action heavy affair that straddles the science fiction, paranormal, and thriller genres. Told you it sounded good.
The story and characters, which are currently being kept under lock and key, come from an idea by Lee and Bill Macdonald and Ralph Hemecker. Those two got together to co-write the script, and Hemecker will handle the directing duties. Macdonald has previously worked as a writer and producer on HBO's Rome, while Hemecker is most known for a lengthy TV directing resume that includes the likes of The Flash, Once Upon a Time, and many others. The two are currently working together on a TV miniseries called Flying Dragons about American volunteer pilots who helped defend China during World War 2.
Even though Arch Alien is being rather stingy and secretive with the plot specifics, it already has a filming date set. Principal photography will kick off on March 7, and production will take place in both China and the U.S.
And if this isn't enough to keep Stan the Man busy for the time being, his annual Comikaze Expo just kicked off today in Los Angeles and runs through the weekend with a guest list that includes tons of favorites like Carrie Fisher to Summer Glau, as well as many others.
Then there's the other project he's working on, Realm, another team up with Chinese business interests. Just the other day the legendary creator announced plans for the first female Chinese superhero, who will be played by Resident Evil, Transformers: Age of Extinction, and Detective Dee: Mystery of the Phantom Flame actress Li Bingbing.
Again, details for Realm are also being kept a closely guarded secret, but the story is based on another original idea from Lee's fertile brain, and the script is being written by Alex Litvak, who wrote Predators and Paul WS Anderson's The Three Musketeers.
Like I said, Stan Lee likes to keep busy, and at 92, his level of productivity puts most of us to shame.
Your Daily Blend of Entertainment News
Thank you for signing up to CinemaBlend. You will receive a verification email shortly.
There was a problem. Please refresh the page and try again.